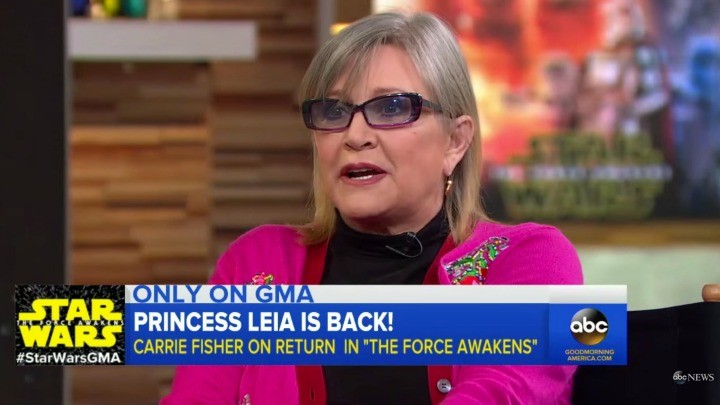 There's no doubting Carrie Fisher has been through a lot, so it's great to see her back in form and looking well in this hilarious interview for Good Morning America.
The Star Wars stalwart brought her French bulldog, Gary, along with her for the interview, who sat through it with his tongue hanging out and looking nonplussed about being on TV.
Gary is already famous on Twitter, so he presumably thought this TV biz was a doddle.
But Carrie was the star of the show, refusing to be drawn on anything remotely serious and providing quirky one-liners that had the crew snorting with laughter in the background.
When asked if she took any convincing to reprieve her role of Princess Leia, 59-year-old Carrie replied, "I'm a female in Hollywood over the age of, let's say 40, and then we could also say 50 … you don't have to ask you if you want to work at that age… You'll see some day," Carrie said.
When the presenter tell her she too is over 40, Carrie's response is priceless, and Amy Robach can be seen wiping tears from her eyes in genuine surprise at this grumpy-but-funny "old lady" in front of her.
By the end of the five minute interview, Gary has fallen asleep: "He's bored as hell," says Carrie, winding up what the presented called "one of the most entertaining interviews ever".
Watch it here:
Do you ever play up the "zany old-lady" for a few laughs? Tell us your best stories!
Comments