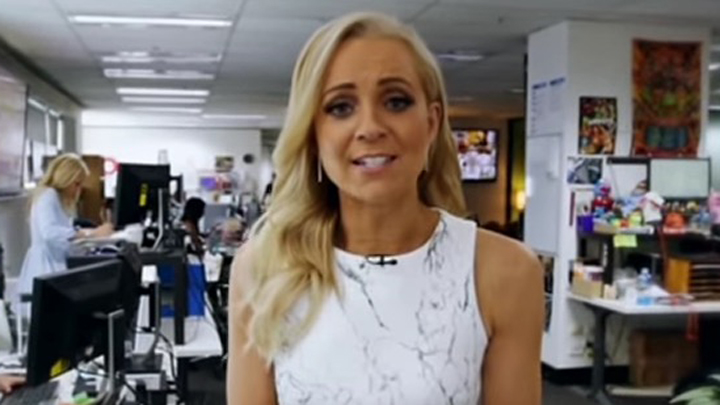 Carrie Bickmore is one of the most recognisable faces on our TVs and with that comes the spotlight. Instead of using it to self-promote, Carrie has used her profile to spread awareness of an illness close to her heart: brain cancer.
The 34-year-old lost her husband Greg to the cancer 5 years ago, leaving a lasting impact on her. Now, Carrie has revealed how she will be helping raise awareness and money for brain cancer research – she is launching her own charity.
The Carrie's Beanies 4 Brain Cancer Foundation has been created in the memory of Greg, who battled for a decade.
The Project host hopes to raise $1 million for research and to help families whose struggle she knows all too well via a music festival.
We all remember Carrie's heartbreaking and inspiring Gold Logie acceptance speech at this year's awards, which showed just how deeply she cares for the cause and helping others.
"After the Logies speech I was kind of completely overwhelmed by it all, I didn't know where to start or what to do," she said, reports The Advertiser.
"It's taken me six months to do all the work and I have a great board with me, including Todd Sampson and Natasha Stott Despoja".
The Brainbeats 2015 festival will be held on December 6 and will showcase performances by Ed Sheeran and Vance Joy, as well as comedy and food.
Tickets are $395 for the intimate event but if you can't make it, you can donate to Carrie's charity here: CarriesBeanies4BrainCancer.com
"Brain cancer has barely changed in 30 years. One person is diagnosed in Australia every 5 hours. One Australian dies every 7 hours…. and it kills more kids than any other disease".
The presenter pointed out that only 5% of the government's cancer research money goes towards brain cancer and it's not good enough – they need more money.
"I believe together we can make a difference".
Share your thoughts below.
Comments