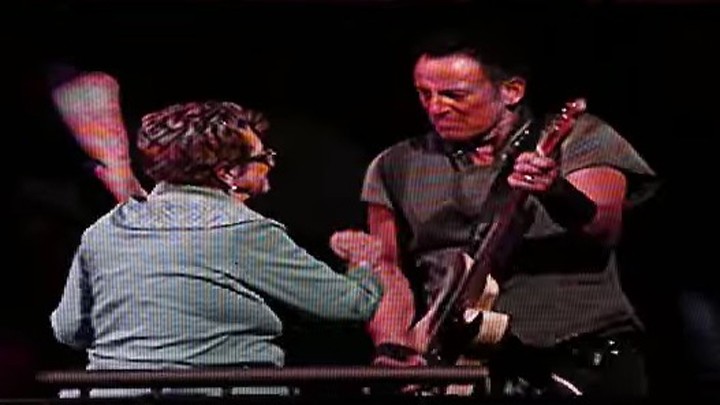 He may be 66 years old but Bruce Springsteen will clearly always have a soft spot for his mum Adele, as is obvious from their on-sage display at Madison Square Garden on Monday night.
The Boss plucked his mum out of the crowd and had a dance with her along to his song Ramrod.
But it's not the first time the mother and son have boogied on stage together – back in 2012 Bruce called his mum up to dance with him in Philadelphia.
"Not too bad for almost 90," said the Jersey native as he and his mum to danced along to his famous '80s hit, "Dancing in the Dark".
Bruce attributes is work ethic to Adele, telling Uncut magazine back in 2002 that she was always working hard for the family.
Mrs Springsteen was a hard-working secretary who took over as breadwinner when his father couldn't find work.
"I took after my mom in a certain sense. Her life had an incredible consistency, work work work every day, and I admired that greatly. I admired her ability to present herself.
As I grew older I began to look at this as a noble thing…. The work part of what we (the E Street band) did was intensely modelled on what she did, and the way she conducted herself on a daily basis", he said.
Take a look at these two videos, the first one on Monday and the second in 2012 and tell us, are you a fan?
Comments