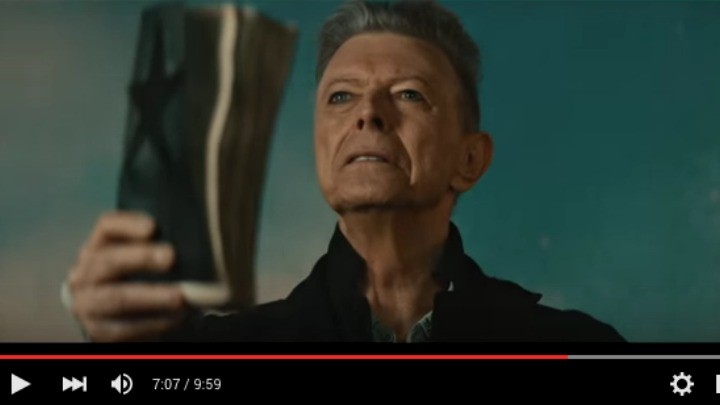 Enigmatic popstar David Bowie has always divided critics, possibly more so than other other popular musician of our time. His latest effort Blackstar, is set to drive an even larger wedge between those who think he's a musical genius and those that simply don't get it. And at 9:59 minutes, you'll have plenty of time to make up your own mind!
Famed for his breakthrough effort with Space Oddity (1969), his flamboyant glam-rock hit single Starman (1972) and his first taste of U.S. success with Young Amercians (1975),  Bowie has long held a reputation for reinvention, innovation and spectacular videography.
Blackstar's mini-epic video is a visually haunting, somewhat incoherent, surreal miss mash of scenes, held together by a largely self-indulgent music, which in reality, only kicks in to a recognisable song, about two-thirds of the way through, and only for a minute of two, before trailing out into ghostly space land again.
It certainly has a sense of intrigue, and you can't help, as if spellbound by its peculiarity, but continue to watch to see if it actually goes anywhere…which you think it does but only for briefest of fleeting moments.
No doubt the Bowie lovers among us, will praise the ever-present genius who has certainly taken us all on his musical and visual odyssey.
Certainly, no one can criticise him for being unoriginal; in fact it's probably his defining character, but on this occasion, one can't help but think that he might have taken the artistic license a little too far to the left of odd.
At in excess of 100 million record sales though, he probably doesn't care what we think!
Are you a Bowie fan?  Tell us what you think of his latest effort.  Genius or off the planet?
Comments