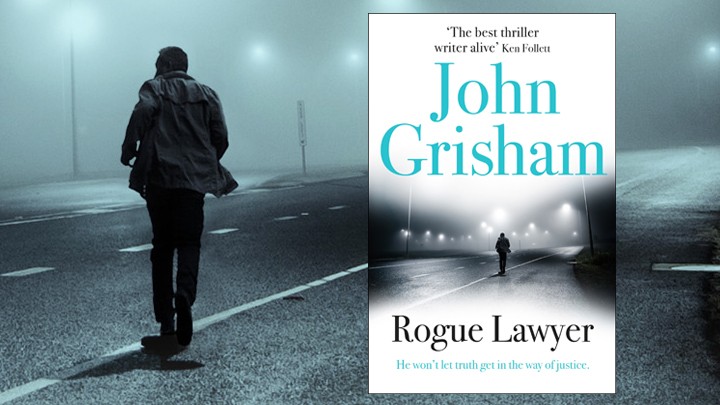 I'm not a typical lawyer. I don't maintain a pretty office filled with mahogany and leather. I don't belong to a big firm, prestigious or otherwise. I don't do good works through the bar association. I'm a lone gunman, a rogue who fights bad systems and hates injustice . . .
From the very beginning in John Grisham's Rogue Lawyer, Sebastian Rudd lets us know just who he is and how he works. His office is a bullet proof van with a bar fridge, Wi-Fi, leather chairs and a heavily armed driver who answers to the name Partner.
As we read the first chapter, we learn Sebastian is fighting to save the life of a very unsympathetic character, Gardy, accused of murdering two little girls. Gardy has a vague acquaintance with soap, knows his tattooist well and is drug addicted. The police, prosecutor, judge and the jury are convinced they have their man. They do everything in their power to make the evidence fit the suspect.  Poor Gardy can't believe his ears as witness after witness tell carefully coached lies. There is even deliberate jury tampering, but Sebastian is too smart to fall for that one.
But it is the case of Doug Renfro which makes us hope this is a work of fiction!
Sebastian Rudd is not popular, in fact, there are few people with a good word to say about him including his ex-wife, another lawyer who frequently takes him to family court to gain sole custody of their son. The problem is that Rudd believes that even the worst criminal deserves good representation; they deserve a fair trial.
He knows the rules but is capable of breaking them if it means justice for his client – consequently he is not a favourite with the police or the judiciary; even his clients don't really like him. His last office was firebombed and the perpetrators were either drug dealers or police – which ones Rudd doesn't know or care. Along with his van, Rudd's only other office is a spare room in Partners home and the phone answered by Miss Luella, Partner's mother.
When the assistant policed chief's daughter is abducted, the prime suspect names Sebastian Rudd as his lawyer. Coming as it does so soon after the Renfro case, Rudd's reputation is even lower than usual with the police department. Worse still, for the first time in his career, he begins to question everything he believes about crime, punishment and justice.
Crime and crime thrillers are not my "go to" genre; but John Grisham is one of my "go to" authors for a good gritty, fast-moving story. He has a great knowledge of the law, as you might expect of someone who " … practiced street law for ten years, a career mercifully cut short when I decided to pursue writing. … Deep inside, though I really wanted to be a rogue lawyer." Often his stories are of the little guy against big business, big government or big justice.
"Gritty, witty, and impossible to put down, Rogue Lawyer is the master of the legal thriller at his very best." But don't take my word for it, or even the word of the publicist. Read on for your chance to find out first-hand!
Buy a copy below, or read on for your chance to win a copy!

Thanks to our generous book club supporter Hachette Australia, Starts at 60 has 10 copies of Rogue Lawyer to give away.
To enter the running, answer the following question. (Hint: you can find it in Karen's review above!)
 John Grisham was a lawyer for how many years? And why did he eventually give up law?
Comments