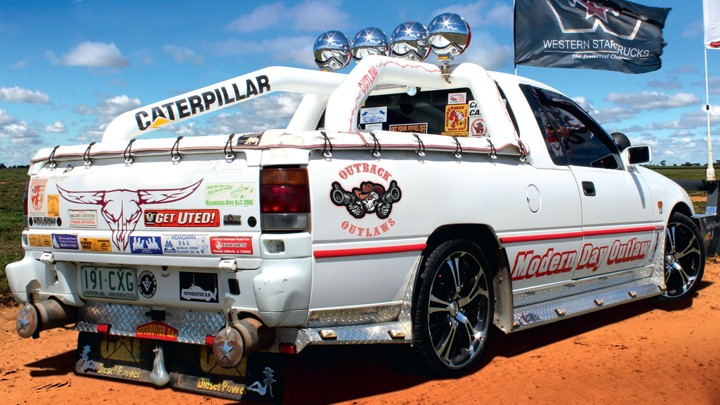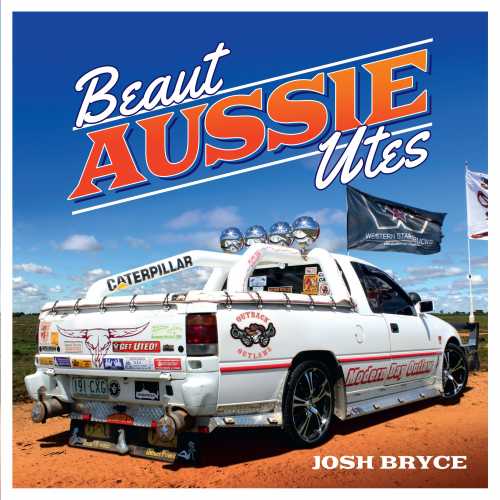 Who has a soft spot for the Aussie ute?
Josh Bryce has written a colourful, illustrated book about this classic Aussie vehicle, packed with photos and vital statistics.
Beaut Aussie Utes is divided into sections according to the manufacturer – Holden, Ford, Toyota, Nissan and Other. There is a detailed index. The photos are taken right around Australia.
Most of the utes, which have been modified in terms of looks, are photographed with their proud owners. Not only are there male owners, but some very proud women show off their utes. There are P platers and seniors,  young families and bachelors and spinsters (apparently there is such a thing as a B&S ute, a drawcard at Bachelor and Spinster Balls).
The author, Josh Bryce, grew up on a farm and became a concreter. He has always loved utes and took a photography course with an aim to record the great variety of utes he'd seen. He travelled Australia taking photographs and talking to owners. The result is this carefully documented and colourful book, a delight for any ute fan.
In all honesty, I am not a ute fan. In fact, I don't think I've ever been in one, but the book got me thinking about the availability of books about different sorts of vehicles. Hachette publishes a number of books for young people about vehicles – great to read with your pre-schooler or to encourage reading in older children.
There is a set of books by Deborah Chancellor on emergency vehicles – ambulance, fire, police and sea – full of action and, be warned, sound, In fact there seems to be a whole subset about rescue vehicle, including Mechanic Mike's Machines by David West, along with Margaret Parrish's books loaded with technical detail on rescue vehicles, trucks and diggers and planes.
For slightly older children, Rob Scott Colson has a series on Ultimate Machines – helicopters, trucks, tanks and military vehicles.
Jon Richards and Ed Simkins have produced an introduction to Infographics with their book, The World in Infographics – Machines and Vehicles. All of the above are published by Hachette.
For LEGO enthusiasts, Dymocks have available Vehicles and Movement by Yoshito Isogawa,  a book of small projects to build. I must watch out for this for my grandson.
Beaut Aussie Utes by Josh Bryce (and many of the other titles mentioned above) are published by Hachette Australia and available now at Dymocks.


Join the Starts at 60 Book Club for more great reading recommendations!



Comments