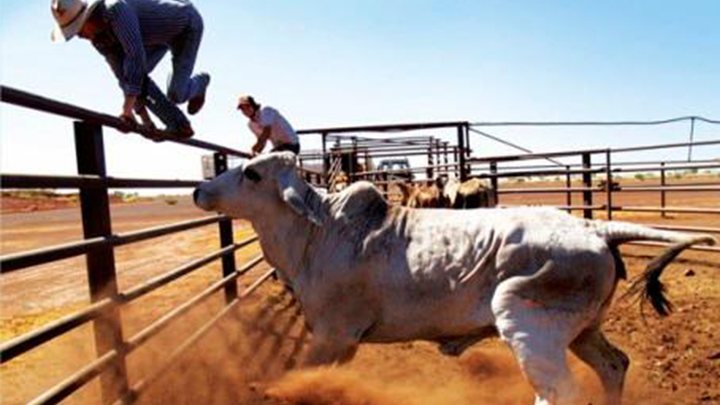 I was fortunate to receive a copy of Central Station, True Stories From Australian Cattle Stations, an ABC Book edited by Jane Sale and Stephanie Coombes. It is a compilation of stories associated with the Central Station Blog site.
Central Station, the blog site, is unique and worth checking out. Each week it has a different host, someone in the northern cattle industry with an interesting story to tell. I quote from its home page:
 "Have you ever wondered what it's like living five hours from the nearest supermarket? Or having a million acre backyard, with your neighbours a two hour drive away?
"The Central Station journal has been created by a group of women who… are passionate about what they do… (and are) committed to sharing their past and present experiences with many others who share their values but very different and diverse ways of life.
 "Here you will have the opportunity to discover the diverse personalities and lifestyles involved in (the cattle) industry and see that we have one common goal which is the best possible care for our animals."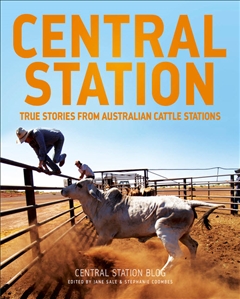 Central Station is a 'coffee table' book, but a whole lot more than that. It is one probably best not read in one sitting, and nor do I feel it possible to absorb its vast scope and territory in such short order. In fact, it might take a month to complete its 300pp and do it final justice. However, having sampled a bit more than a half of its content, at random, I'd like to pass on some observations.
As a 'Southerner' (and you don't get much further south than Tassie without getting your feet wet!) and coming from a rural background of rich red-brown basalt soil with a reasonably assured metre-odd of rain a year pushing out spuds, poppies and dairy, it isn't possible to understand what it is like to live and work – and sweat – as they do in the top third of this huge land.
One of the first things the reader will notice is that, of 80-some stories told, only a handful are written by men. This is probably a bit different to the way things once were, when men gathered and passed on stories because they were the ones on the move, 'the little woman' being the home body. One massive change in modern life, one of many, is the increase in communication technology and, with it, how we maintain contact. Our womenfolk are simply better communicators, with letter writing and then perhaps pedal radio being the norms of the past; today, with so much electronic media available, it remains so. Thus it is that, other than doing the cooking, the educating, the wrangling, the fencing, servicing the generators and all the other essential daily operations around the average property, the girls still manage to find time to connect.
Central Station is excellent reading. It covers an entire range of human emotion, is sometimes raw and even covers thoughts of suicide (as someone involved in rural suicide intervention, this drew me right in) but also contains good slices of dry Australian humour. Kate Paull of Noreena Downs Station tells us about childhood and the goings on in the chookyard, about Johnny being "…a bit precious, a bit 'metrosexual'… he was just not quite a full-blown rooster."  And Sue Witham at Mt Bundy Station relates an experience with a station guest: "I am hopeless with celebrities as most of the time I don't recognise them. Once we had well-known author Di Morrissey at our dinner table for three nights before I realised she was the Di Morrissey!"
There is wit and there is wisdom. Anne Marie Huey, of Dampier Downs Station, was so engrossed watching one snaky bull she failed to notice another beast eye her off, saving herself – with a bit of help from Mike, her husband – despite getting her britches snagged on top of a fence. As she says, "… don't get so caught up in what you think might happen that you fail to see what is going on around you… a pretty good philosophy for life, really."
I haven't reneged in my duty by simply taking a number of quotes, including one from the website. To appreciate the book's  spirit and its essence, it is necessary for it to be read. I hope there are great numbers of people – especially city folk with a necessarily limited understanding of station life – prepared to garner some idea of station life by reading it.
This has been an amazing year of reading that seems to get better as it goes. Central Station has helped maintain the buzz.
Central Station, True Stories From Australian Cattle Stations, an ABC Book edited by Jane Sale and Stephanie Coombes is available from Dymocks.


Join Books at 60 on Facebook, or sign up for our weekly newsletter below for more great reading recommendations!



Comments