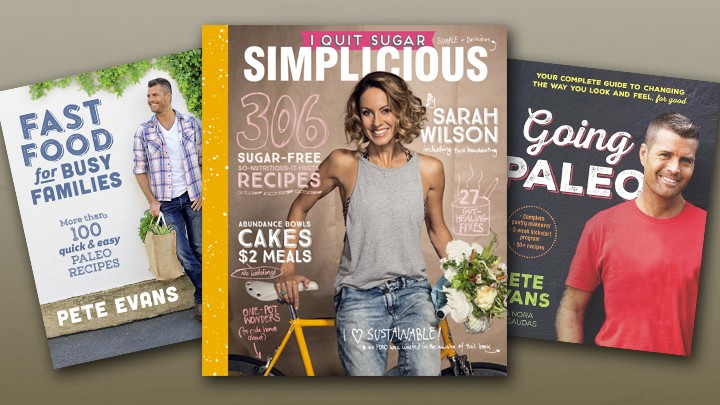 Keen to stay healthy and in her search for different ways of looking at food, Jess compares three books:
Going Paleo by Pete Evans and Nora Gedgaudas
Fast Food for Busy Families by Pete Evans
I Quit Sugar: Simplicious by Sarah Wilson
Celebrity chef Pete Evans embraced the Paleo Diet after meeting his glamorous former model wife, Nicola Robinson. The way of eating embraced by followers of the Paleo Diet mimics the diet of our cavemen ancestors and bans grains, dairy, refined sugar and legumes. The modern Paleo diet consists of fat from animals, coconuts and avocados; organic meat and fish, nuts and vegetables, with limited amounts of fruit. It has similarities to the Atkins diet and causes the body to go into ketosis, or fat burning, mode. The risks of following such a diet long term may be kidney damage from the ketosis process and osteoporosis from lack of calcium. However, Pete is a testament to the effects of following this method of eating, if his physical appearance is used as a measure of wellbeing.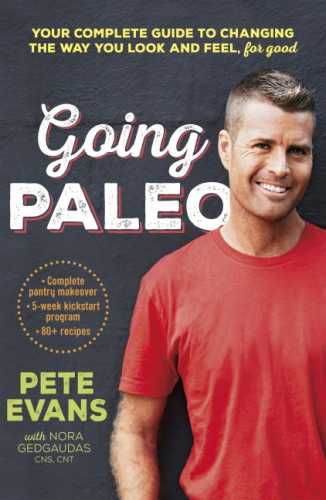 In Going Paleo, Pete explains the reasons why he believes that eating in the Paleo style is healthy for modern man. He explains how to make over your pantry and provides an outline of the five-week eating program which will kick start you into a new way of eating. He declares that lemon water is the single most important recipe in the book. He recommends drinking 2 litres of filtered water per day, and starts his day with this preparation method: mix 1 litre of filtered room temperature water with the juice of one lemon or 2 tablespoons of cider vinegar. Pete drinks half of this recipe within 30 minutes of waking, and waits, at least, another 30 minutes before consuming anything else.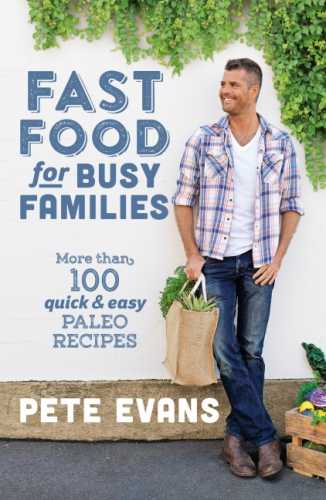 Fast Food for Busy Families has suggestions for breakfast, lunch and dinner, with good ideas for school lunch boxes. A simple recipe that I really loved from this book is:
Rocket and Pear Salad with Balsamic Dressing
150 gm baby rocket leaves; 2 Beurre Bosc pears, cored and thinly sliced; 80 gm toasted walnuts. Combine these ingredients and serve drizzled with balsamic dressing. For the dressing combine 2 teaspoons of Dijon mustard; 3 tablespoons of balsamic vinegar; 125 ml of extra virgin olive oil with salt and pepper to taste.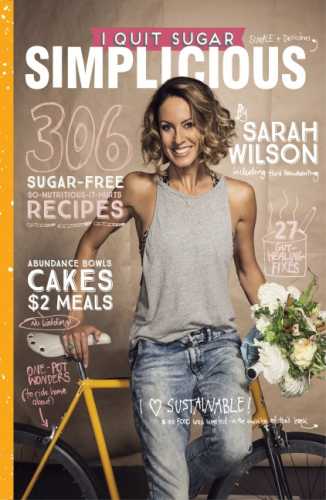 Another Australian author who has a range of diet-related cookbooks on the shelves is Sarah Wilson. Sarah includes Paleo recipes in her cookbooks, but her dietary suggestions are less restricted. She allows grains and dairy products and concentrates on minimising sugar intake. The World Health Organisation recommends that adults should not consume more than 9 teaspoons of sugar per day, not including the sugar present in fruit, vegetables and dairy products. Australian diets commonly include pre-prepared and takeaway foods which are high in sneaky sugar content.
Sarah was working as a journalist on the Sun Herald's weekend pullout magazine Sunday Life when she wrote about a 2-week experiment that she had decided to do for herself.  She had thyroid disease, and nutritionists had advised her to cut down on her sugar intake. She decided to quit sugar altogether, which led her to a new career as an author and food blogger.
I purchased Sarah's book Simplicious so that I could check out her recipes, with thoughts of reducing my sugar intake. The book has 306 recipes without added sugar and including everything from snacks to main meals, right through to desserts. Sarah is an exponent of keeping school lunch boxes healthy, so here is a recipe from the book to include as a lunchbox treat:
Bronc Bites
Partly cook 2 to 3 cups of broccoli and chop it up. Preheat the oven to 190 degrees. Line two baking trays with baking paper, and lightly grease with your choice of butter or coconut oil. Combine broccoli in a bowl with 1 ½ cups of grated cheese, 3 eggs, 1 cup of flour, some oregano and a sprinkle of salt. Roll the mixture into bite sized balls and bake on the prepared trays for about 25 mins. These treats freeze for up to a month, or store in the fridge for 4 – 5 days.
Similarities between the two eating styles are that both authors include fermented vegetables in their diets, which provides good bacteria to aid the digestive process. Both diets eliminate or minimise sugar intake. Sarah's is a less restrictive regime where followers are able to use sugar substitutes to satisfy their sweet tooth. All the books have recipes that are useful to anyone trying to clean up their diet, and all have full page mouth-watering photos of almost every recipe in the book. Both authors also have associated online diet programs to provide peer support to the newly converted.
Pete Evans and Sarah Wilson's recipe books are all available from Dymocks.

Join the Starts at 60 Book Club for more great reading recommendations!



Comments