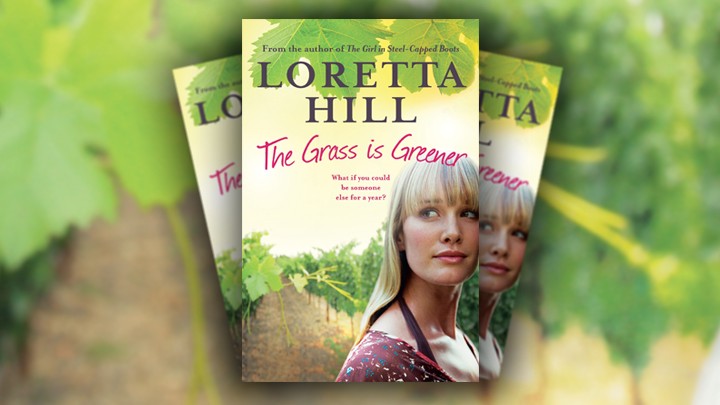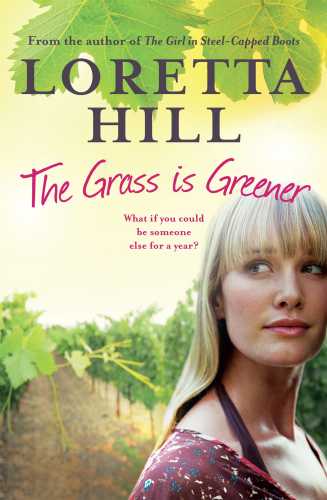 The Grass is Greener is my first read by Loretta Hill. I had no expectations and was pleasantly surprised how quickly I was drawn into the unfolding drama as two young women do a role reversal which creates hectic challenges to both their families and their workplaces.
Young lawyers, Claudia and Bronwyn had always envied each other's lifestyles, Bronwyn yearning for the idyllic country life of an Australian vineyard Oak Hill, and Claudia for the bright lights and opportunities of the big city. Both young women feel that they have undeveloped potential which will flourish given the perfect setting. So why not swap lives? It can't be that hard can it?
But there are a few things needing to be faced. Unresolved family tensions and resentments at the ailing family vineyard business are due to a family tragedy that left one brother permanently in a wheelchair and one brother banished from the family seemingly forever. Claudia just wants to go and live the life she always wanted as a sophisticated city lawyer. Meanwhile, jaded city lawyer Bronwyn just wants to cut off the career expectations of her dominating mother who is from the prestigious Eddings family line of lawyers, and go to the place she had always been happiest when on university holidays, the vineyard Oak Hill.
It all sounds so easy, and perhaps it starts out that way, but both 'dream jobs' have a few hiccups involved. The return of the errant brother Jack to Oak Hill, Bronwyn always had a crush on him, but he just saw her as a kid. And Claudia's new employer just happens to be utterly gorgeous – but not interested in her. She is also seen as an interloper in her new corporate role. Then there is the huge pregnant dog which Bronwyn unwittingly inherits from a shady client and also the complications associated with her ownership – possibly criminal links. So Bronwyn's,  Elsa and the dog's whereabouts must be kept secret. But that isn't so easy.
As the young women embrace their new lives, they don't find it to be all smooth sailing. The book is full of a few surprises, some very funny moments and a good build-up of tension at the end of the book approaches, not all is as it seems, and there are undercurrents of intrigue and possible danger.
I enjoyed this book, not the type I usually like, but it was a good solid engaging read and it kept me interested from beginning to end.
The Grass is Greener by Loretta Hill is available now from Dymocks.


Comments