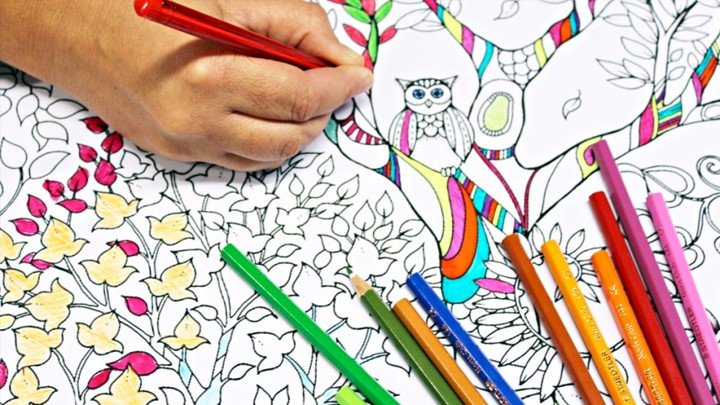 Surely the publishing phenomenon of 2015 is the Adult Colouring Book and its partner, the Join-the-Dots book! They are represented on Top 10 lists in bookstores everywhere.
On jury duty, where we spent a number of hours out of the courtroom, I watched a young woman, obviously old enough to be on a jury, spend her time colouring in a book of Fairy pictures. Quite unselfconsciously, she took out her pencils, her book and proceeded to fill the spaces between the lines. We were on jury duty so long, she brought a second and even a third book – well "to each her own" thought I and went on my way.
I started noticing colouring books in a few speciality stores, but when one of our Starts at 60 sponsors suggested we review a colouring book for adults, I was taken aback. Even more astounding was the number of our community who responded positively to the book.
"A passing fad", thought I – something which will last a few months and then go away to be replaced by the next big thing. Fortunately, I'm not employed to predict future trends!
As I sat typing this, in the background there is a serious discussion on the radio with a neuroscientist about the benefits to be derived from colouring books such as changing our heartbeat, making us happier, providing relaxation, focusing our attention, providing diversion; apparently even the colours we choose are indicative of our state of mind – give me strength! According to this expert, the only thing they can't do is remove wrinkles.
I cannot believe the number of colouring books out there. No longer the prevue of speciality shops, my local variety store had a whole stands of them, Landmarks, Science, Animals, Gardens, Art Deco, Mindfulness – the list goes on and on. Then I spotted the … Join the dots book! Some of these are A3 size with illustrations where the dots number in the thousands and again there were so many subjects for the creative dot joiner – before they colour them in!!!
Hachette Australia offers dozens among which are:
Bollywood, By Hamlyn
Pick up your colouring pencils and create a wonderful oasis of peace on paper. How can you free yourself from niggling everyday worries? When your mind is distracted simply pick up this collection of 70 intricate designs inspired by India and the fabulous world of Bollywood and reach for your colouring pencils.
Tolkien's World: A Colouring Book, By Bounty
"Nothing is more relaxing than colouring, and few books are more beloved than The Lord of the Rings. This book is the perfect combination; immerse yourself in the fascinating world of J.R.R. Tolkien and let your imagination run wild while you relax into the intricate illustrations. …"
Over at Dymocks, there are even more titles to for the colouring book enthusiast!
The Liberty Colouring Book, Author Anon
"Make your mark on this stunning collection of patterns from the Liberty archive.  …   The Liberty Colouring Book is a unique opportunity to reimagine Liberty's iconic patterns in your own personal style. Lose yourself in paisleys and florals – and fall in love with your favourite Liberty prints all over again." 
Game Of Thrones: Official Westeros Colouring Book
ALL MEN MUST DRAW – In a world where weddings are red, fire is green, and debts are paid in gold, countless images leap off the page (or the screen) thanks to the eye-popping intricacy of the vivid settings and details. With dozens of stunning original black-and-white illustrations from world-renowned illustrators Yvonne Gilbert, John Howe, Tomislav Tomic, Adam Stower, and Levi Pinfold.
1000 Dot-toDot Masterpieces: Twenty iconic paintings to complete, Thomas Pavitt
After the phenomenal worldwide success of the 1000 Dot-to-Dot Series, for his fourth outing author and artist Thomas Pavitte is taking on the challenge of recreating some of the world's finest pieces of art in 1000 dots! With Thomass unique style, 20 masterpieces by the likes of Van Gogh and Hokusai are rendered in exquisite line drawings for you to complete yourself. 
Not one to avoid a challenge, I prepared to enter this brave new world; girding my loins, I sallied forth to research, on your behalf, the world of colouring books. Bought a book of Art Deco designs, some coloured pencils and left them to gather dust. Eventually, I opened the book chose a design and …… many hours later, returned to planet Earth totally hooked! This is so much fun and as I'm artistically challenged, I feel like a bona fide artist. Don't worry Brian and Jacqui Lee you are quite safe – my artistic ability is limited to colouring (mostly) between the lines!
Enough of this review – this is keeping me from my new obsession – pages to fill, pencils to sharpen, new images to conquer!
Check out your nearest Dymocks for a huge selection of colouring books, or click here to take a look at their online range.

Join the Starts at 60 Book Club for more great reading recommendations!



Comments