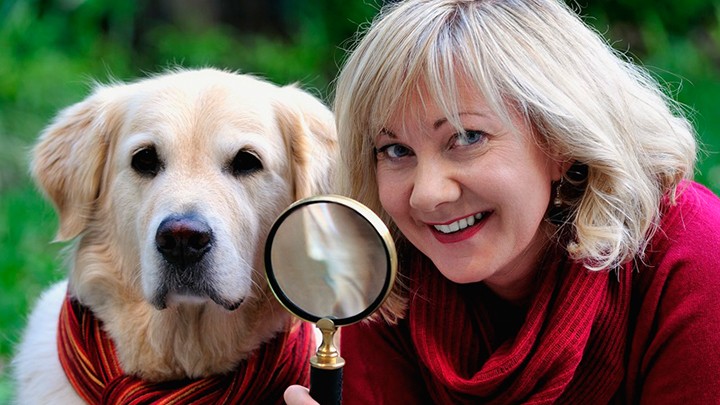 Hello, Reading Readit fans. Today I have a very special guest for you – author Louisa Bennet has written a blog, just for Starts at 60, about the things she loves most: writing and dogs. – Karen
I'm a dog lover and an author, so it was inevitable that I would write a novel about a dog. I've traditionally written thrillers as L.A. Larkin but a thriller isn't the right genre for a loveable dog character. At the other end of the crime fiction spectrum are humorous cozy mysteries. My crime-solving dog hero was a perfect character for this style of story made popular by authors like Spencer Quinn and by TV series' like Inspector Rex.
I'd had the idea for Monty & Me in my files since 2006, about a dog that solves crimes that have humans stumped. I'd write the book as Louisa Bennet – taking the surname of one of my favourite literary characters, Elizabeth Bennet from Pride and Prejudice. At the time, I didn't own a dog. The concept came to me when I was staying in a quintessential English village called Farley Green, surrounded by lush rolling hills where the hares did backflips at night in my car's headlights. The owner of the property had a Golden Retriever who would run around an oak tree barking at a squirrel. I imagined they were in conversation and the squirrel was alerting the dog to a crime.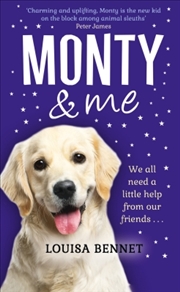 Some years later I was lucky enough to be introduced to a retired Detective Chief Superintendent by the wonderful crime fiction author, Peter James. The ex-murder squad detective, David Gaylor, talked to me about the cases he worked on, the processes and technologies he employed and what life was really like dealing with such terrible crimes. From these discussions, I created the detective characters in Monty & Me, including the heroine, Rose Sidebottom, a struggling young detective who adopts Monty when his master is murdered. She is working the case. Little does she know, so is Monty.
By the time I started work on Monty & Me, I had a Golden Retriever called Pickles. He's large for his breed and would make an excellent sniffer dog – his nose is always to the ground. When I'm working, he sits on his mat near my desk waiting patiently for his next walk. Sometimes I read my work aloud, especially dialogue, to make sure it sounds right. He will either give me a reassuring nudge or a disapproving hurrumph if it's not good enough. By observing Pickles' habits, abilities and facial expressions, and researching dogs' capabilities, I felt confident about creating a credible, fun and endearing dog character.
Pickles can detect the merest whiff of food from incredible distances. This inspired Monty's weakness in the book – he's a food addict – and, in particular, he's obsessed with cheese. Unfortunately, this weakness lets Monty down when it matters most and he ends up in the local pound, known by the four-legged 'prisoners' as Dogmo, because of its resemblance to Gitmo, otherwise known as Guantanamo Bay. Pickles is an excellent fishing dog and loves to chase ducks, as many Golden Retrievers do. In the novel, Monty has developed a game of duck-toppling:
"Mouth open, I pounce on a black and white tufted dowager and come up with her in my jaws.
'Get off me, you slobbering fur-ball!' she quacks and kicks me in the muzzle.
… Sodden but proud, I trot out of the pond and deposit the ruffled bird, unhurt, at Rose's feet. A gift. I am expecting praise, ears up, long pink tongue dangling, mouth turned up in what the big'uns – that's our term for people – often think of as a smile.
'Bad dog!' she scolds, trying to catch her breath."
Apart from knowing the killer's scent, Monty uses wee-mails to communicate with other dogs who help him track down the assailant. He understands what people say. His murdered master was a Professor of Apiology and was fascinated by animal and insect communication. He taught Monty to understand simple words, which comes in useful when Monty needs to track down the address of a suspect. But Monty often takes what people say literally. When he first hears Rose's mum oink down the phone, he assumes her mother is a pig.
Monty, like my dog Pickles, is sensitive to his owner's moods:
"I always pick up on the subtle shifts in big'un moods, but this morning it's like full-volume, surround-sound. It's Saturday and Rose is sitting at the kitchen table sipping from a strong mug of tea that went cold ages ago, her long hair dishevelled, head bowed, looking very hang-dog. She hasn't said a word all morning or even commented on the magnificent hole in the lawn I dug earlier… I nudge Rose's leg and leave behind a splodge of soil on the fabric. Oops. She looks down but doesn't seem to notice. Instead, she places a hand on my head."
I made Monty the primary narrator because this means the reader is inside his head and views the world as a dog sees it. The secondary narrator is Rose Sidebottom. Getting the dog's voice right was really important. It needed to be convincing and convey his loving and loyal nature. Monty misses his old master terribly:
I see Paddy's cardigan hanging on the back of his swivel chair. It's grey wool, with big black buttons and two baggy pockets… I take it gently in my mouth and pull. It stretches but gets caught on the chair arms. Rose lifts the cardigan free and lets me drag it along the floor to my bed in the kitchen. I then go back into the office for my duck and place that, too, on my bed. I lie on them. Where I go, they go.
Since completing Monty & Me, I have adopted a rescued Golden Retriever called Lilly who likes to sleep with her legs in the air – all four of them. I suspect Lilly the Loon may appear in a future Monty & Sidebottom Mystery. I'll never be short of inspiration.
Monty & Me is available now as an eBook, or as a hardcover to preorder for November 19.


Thanks so much to Louisa for this entertaining insight into your new novel. For Marlene Sanders' review, keep an eye on our book club page next Saturday.
Join the Starts at 60 Book Club for more great reading recommendations!

Comments