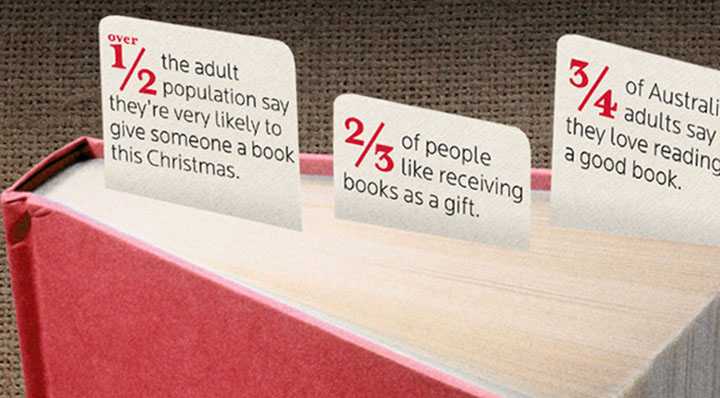 Do you love to receive and read a good book at Christmas time? Apparently you are not alone with three quarters of Australians saying that they love reading a book. And it is all set to remain one of our strongest purchases this year in the Christmas shopping rush. The young are most likely to buy books for the older generation this Christmas according to the poll, and that leads us to ask… Which book do you want to receive this Christmas?
An Omnipoll was conducted of 1245 Australians and it confirms what we all feel deep down. Women lead the trend with 83 per cent making regular 'me-time' to read, compared to 66 per cent of men. And 62 per cent of Australians hope to receive a book for Christmas this year. Attitudes are much the same across age groups, but more women (70 per cent) than men (54 per cent) feel this way.
It is good news for booksellers and booklovers alike.
Sophie Higgins, Head of Merchandise and Marketing, Dymocks, sees the results of the survey as powerful affirmation of the enormous appeal of books.
"Publishing trends come and go but it's heartening to see that good books never go out of fashion," Ms Higgins said.
At the time of the survey, nearly two weeks out from Christmas Day, over half the adult population, around 9.6million people, say they're likely to give someone a book this Christmas. This included almost 60 per cent of women.
The popularity of books as gifts is part of a national trend. The Retail Council's recent report* into holiday spending ranks books among the top three gift purchases this Christmas, ahead of toys, music, electronics and other entertainment equipment.
When it comes to Christmas spending, younger Australians are more likely to buy books as presents than the older generation. 58 per cent of the 18-34 year olds surveyed will buy books as Christmas gifts, compared to 47 per cent of the over 50's.
Sophie said the survey results show that regardless of who you're buying for there's a great book to suit everyone. "This is a bonanza year for booklovers with an incredibly diverse range of new releases. Usually there are four or five stand-outs that everyone will buy as that special gift. This year, though, there are books to suit every taste. We can't wait for Boxing Day when we can start reading them all."
The findings correspond with strong book sales in the lead up to Christmas. Dymocks reported a sales uplift of over 15% in the first week of December, compared to the same time last year.
"Books make the perfect gift and unlike other items their appeal lasts well beyond Christmas. With books, you don't need to spend a lot of money to find the perfect present. We know our customers love to give books as much as they like receiving them. If you're stuck for gift ideas, a personal recommendation from our well-read staff will help you find your next great read." Ms Higgins said
What book/s do you hope to receive this year?
 [polldaddy poll=9226591]
Comments