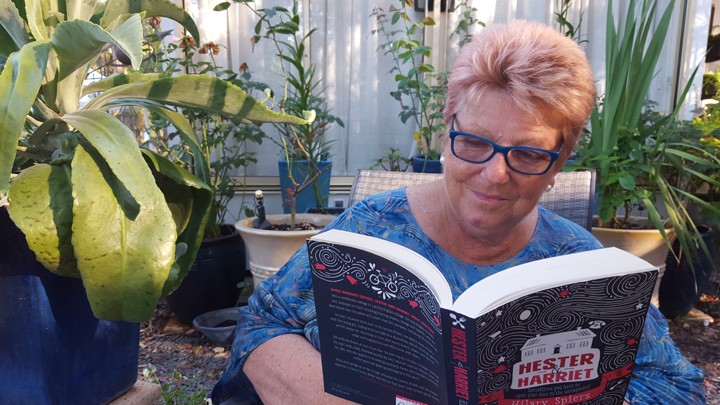 Do you believe Christmas is only a little more than 2 weeks away? It may well be a sign of "aging" but I'll ask – Where did 2015 go?
Google kindly reminded me that L M Montgomery was born 141 years ago in 1874 and then various websites published quotes from Anne of Green Gables. I was, still am, a huge fan and Lucy Maud's books were a Christmas and birthday present staple. I gave a niece my Anne books and although they are now over 50 years old, well-read and well-loved, they are still in pretty good condition. A couple of favourite quotes:
Kindred spirits are not so scarce as I used to think. It's splendid to find out there are so many of them in the world,
There's such a difference between saying a thing yourself and hearing other people say it. You may know a thing is so, but you can't help hoping other people don't quite think it is.
Are you a fan of the Anne books? What books from your childhood have you kept?
My selfie this week is Hester and Harriet a book I'm thoroughly enjoying. Author, Hilary Spiers writes about people like me, a little worn around the edges, but still full of life. As the book opens the sisters are trying to find ways of avoiding the family Christmas lunch which they describe as … "little nasties and gluhwein … her cousin's wife possessed a sort of perverse genius to be able to produce such monstrosities year after year." Such a wonderful word picture!
I'm sitting in my garden which is well shaded in late afternoon and one of my favourite places to settle down and read. The only interruption to the peace and quiet is birdsong, doesn't get much better than this. Do you have a corner of the garden where you like to read?
Our Books at 60 team is growing and there are now 11 of us reading and writing reviews; even with this team, there is room for your reviews. It doesn't matter how long, or short, a review you write, we want to hear from you about what you are reading.
Happy reading
Karen and the Books at 60 Team
Join the Starts at 60 Book Club for more great reading recommendations!



Comments