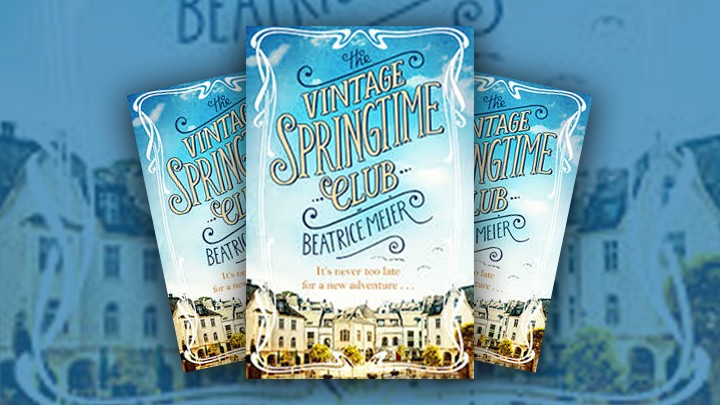 I'm really looking forward to reading  The Vintage Springtime Club by Beatrice Meier it sounds like my kind of book.
One spring, five retirees embark on a flatshare. So begins a new chapter in friendship, love and all the joys and challenges that life has to offer . . .
Newly retired Philip returns home to Cologne and is thrown into emotional turmoil upon bumping into his long-lost sweetheart.
In the midst of a domestic crisis, Ricarda confides in Philip that she is looking for somewhere to live.
And there and then, Philip suggests that she move in with him – he is setting up a flatshare.
Will she join him with his mischievous dachshund named Ralf?
To his surprise, Ricarda agrees, leaving Philip to scramble together a crew of retirees in time for spring, for the most unlikely of social experiments.
There's grumpy cigarette-smoking grandfather Harry; quiet and discreet Eckart, curiously carting around his late wife's headstone; Uschi, brimming with life, harbouring a passion for leotards and aerobics, along with sausages and outrageous knitting patterns; and then, ever-practical and warm-hearted Ricarda, towards whom Phillip is developing real feelings.
Despite their differences, the flatmates thrive and embark on a series of new adventures.
But when Uschi falls unwell, familiar cracks begin to show and this uniquely spirited club of friends must work together in order to survive – and truly blossom.
Beatrice Meier was born in Germany and studied literary translation at Dusseldorf University. She then went on to complete a scriptwriting programme at Munich Film School in 2002-03, and attended the Cologne International Film School in 2006. She won the Best Screenplay Award at the German Film Festival in Ludwigshafen in 2013 for the feature film Offside Trap, which was screened at festivals, the European Parliament and at trade union events. The Vintage Springtime Club is her first novel. A German television adaptation was broadcast in spring 2015. Beatrice Meier lives and works in Strasbourg.
The Vintage Springtime Club, by Beatrice Meier, published by Hachette Australia is available from Dymocks.
Join Books at 60 on Facebook, or sign up for our weekly newsletter below for more great reading recommendations!

Comments