Last year, on return from holiday in South Australia, I showed friends a sunrise photo I'd taken of a prominent headland. They said they'd been to the same place some months earlier but had been unable to get a shot like mine. I said it required an hour's hard slog along a beach. Their response? Forget it!
I chuckled when I read something similar in Bob Brown's superb new book, Green Nomads. He and his partner, Paul Thomas, were among the few out of hundreds visiting Carnarvon Gorge who walked up to Big Bend. A comment from a four-wheel-drive organisation: "…it is too far… national parks workers… should bulldoze a road." Brown counters, "Why not put a freeway and a fuel station in the centre of the gorge and be done with it?" 
Thankfully, this is never likely to be. Nor will such 'development' blight the many places visited during a 19,000km trip undertaken to visit properties owned by and under the care of Bush Heritage Australia, established by Brown in 1990. In 25 years, the organisation has grown to the extent it now protects over a million hectares of Australian wildlife habitat.
Brown and Thomas, both, are ardent and expressive photographers.
The book is a combination of pen pictures and photographs outlining the trip and the properties visited. Brown's words are a travelogue, a history lesson and, on occasion, evocative. I read a few excerpts to a dear old neighbour, now unsighted. At one time, after reading a few sentences on the endangered Swift parrot, I realised Marion was softly crying. Touching her hand I asked, gently, "Thoughts…?" She smiled, gripped my fingers, wiped her eyes, and replied, "His words bring to mind so much that I hold dear. Please go on."
Some of the photographs are breathtaking, not only the subject (this superb land we call home) but the capture. The photo below shows a pool reflecting the Triassic rock beyond, but is more than just another shot. Reflection, refraction, water line, rock fissures, fractures and slope of pebbly beach draw the eye to one point, a mossy boulder set within the mouth of a tiny grotto. As The Bard would have it, albeit in a different context, "…such stuff as dreams are made on."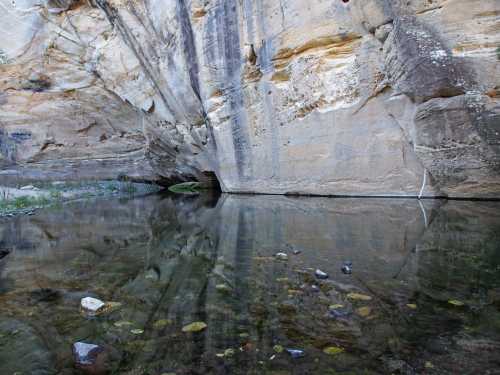 There is, too, an incredible, haunting photograph on page 125, redolent of survival. A single grass root, existing on a surely long-evaporated lifesource of moisture, maintains tenuous hold on a couple of straws. No longer supple, now no more than thin, dry cellulose tubes, they are flattened to the ground. The wind has spun them, one longer, one shorter, creating a surface smoothed by their rotary passage and leaving perfect concentric circles on the grainy red desert surface. It looks to lack life and yet, with rain, that root will burst once more into productive life. In its own small way, it epitomises the underlying sentiment of the book.
To conclude, words from Brown's afterword:
We Australians are, in terms of nature, blessed with access, expanse, variety and solitude above all other people on Earth.
The Outback has heat, flies, a large predator or two, and plenty of dust. But it is also a limitless resource for inspiration, adventure, creativity and self-realisation.
I hope that, before long, you too get to go bush with a good companion. 
Green Nomads, so appropriately named, ought to be in every school, private and public, as a source of environmental inspiration – not to say aspiration – for our developing leaders. It has a place in libraries, in the home as succour for young, inquiring minds and, not least, on the coffee tables that are otherwise as far from the world it represents as it is possible to go.
Green Nomads, by Bob Brown is available from Dymocks
Comments