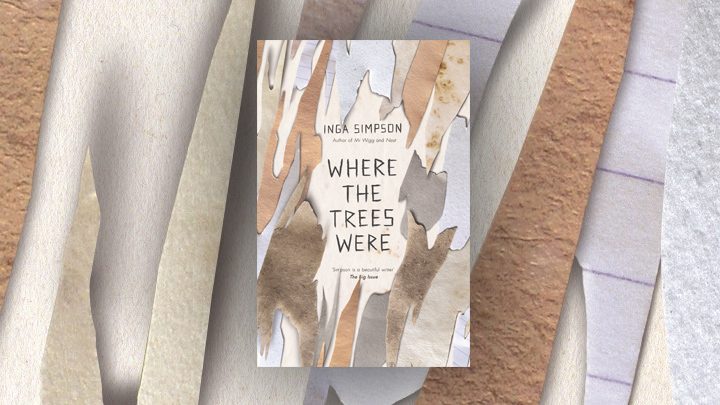 From the first moment I opened this beautiful book from its packaging, I knew I was in for a treat.
Having already read her wonderfully evocative first novel Mr Wigg, I knew that Inga Simpson has a natural gift for storytelling. This is only her third novel, I am yet to read Nest which is her second, but it is high on the list of must do's.
Inga is a Queensland writer, and her sense of place and time are key elements in creating an authentic atmosphere in her writing. She has been longlisted for the Miles Franklin Literary Award and the Stella Prize, shortlisted for the ALS Gold Medal and has won the final Eric R. Rolls Prize for her nature writing. She gained a Ph.D. in creative writing in 2011.
Although Where the Trees Were is written in a completely different tone and style from Mr Wigg, I still found myself completely immersed in the nostalgia of the childhood world of Jay and her friends who live the kind of rural lifestyle that all city kids would envy. Written in a matter of fact style, the language is spare but that perhaps is what highlights the simplicity of both time and place. Children who can run, climb, swim and stay out all day without fear of danger, so different from our current environment for children. It is when the children are exploring that they come upon a grove of trees which are like nothing they have ever seen before.
With the transparent innocence of childhood, these children sense that these trees are unique and must be protected at all costs, and so the vow is sworn to be the guardians of the carved trees. They realise that they are special and that there is some sort of spiritual significance to them. And so the promise is made:
'All in?' Kieran pulled me up, and the others followed. We gathered around the bigger tree. No one asked Matty – he just reached up and put his right hand on the trunk with ours.
Kieran cleared his throat. 'We swear, on these trees, to always be friends. To protect each other – and this place.' (p12 Where the trees were.)
And so the innocence begins and ends, as the children realise that protecting the trees at all costs will involve keeping them secret from their parents who are already feeling the bite of emerging land right issues from the Indigenous peoples of the area. Their commitment is solid, but as tragedy strikes, relationships fracture as the children grow into their teenage selves, and school, parental pressure and responsibility change their world. However, it is the trees that are the consistent thread that runs throughout the narrative, and it remains intact, even as they grow into adulthood. The trees are known as 'Aborglyphs' and are used in burial rites by Aboriginal peoples.
Jay becomes Jayne, whose grown up world involves archiving Indigenous artefacts in a Canberra museum. The aborglyphs re-emerge in the world of the now grown up children. They must be protected at all costs. Every chapter is alternated between Jay/Jayne's child and adult voices, but the reader is allowed into her inner world of conflict as she negotiates the relationship and subsequent expectations of her partner Sarah. A crime is committed, but is it a crime?  There is a build up of tension, but it is written in such a matter of fact tone, that the reader is barely aware of the escalation of events. Here Ms Simpson excels in conveying a sense of quiet but methodical urgency, of promises to keep and of the strong and resilient ties of childhood.
This novel is strongly Australian in both voice and theme. The characters are real, salt of the earth Aussie battlers, right up to the scheming and manipulating agendas of the academic circles in Canberra. The reader will feel the Queensland heat and also the Canberra chill. Jay is at times a remote narrator, as an adult she is written in the third person and this lends a type of distance to the narrative. As a child, she is written in the first person, which creates a more intimate inner voice as she deals with conflict and decision making. I enjoyed the settings of both 21st century Canberra and the Lachlan Valley in the nineteen eighties. The voice is authentic and the issues of preservation of Indigenous artefacts is a contemporary one.
Where the Trees Were by Inga Simpson is a wonderful read and I would like to thank Hachette Australia for the opportunity to review this book. You can find it on sale now at Dymocks.


Comments