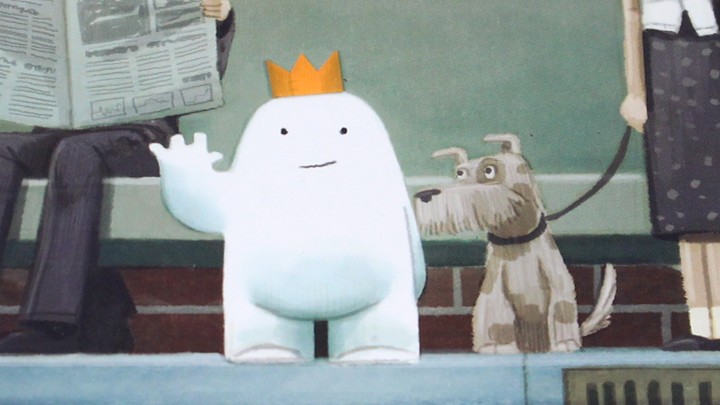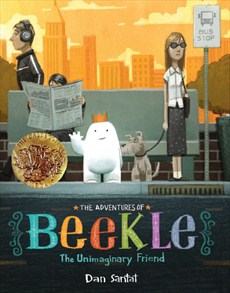 Did you ever have an imaginary friend? As the eldest I had two, Bubba and Kicka and from the stories I've been told, we had great adventures. Family legend hath that sitting on a bus I regaled the other passengers with my tales and when asked who these amazing friends were I replied, "My Imaginary Friends of course".
Although when my siblings arrived, my imaginary friends left, when I saw The Adventures of Beekle, The Unimaginary Friend by Dan Santat, I was immediately interested. An unimaginary friend?
This magical story begins on an island far away where an imaginary friend is born. He patiently waits his turn to be chosen by a real child, but when he is overlooked time and again, he sets off on an incredible journey to the bustling city, where he finally meets his perfect match and – at long last – is given his special name: Beekle.
New York Times bestselling and award-winning author and illustrator Dan Santat combines classic storytelling with breathtaking art, creating an unforgettable tale about friendship, imagination, and the courage to find your place in the world.
It's a book about bravery, friendship, the power of storytelling… and to top it all off, it's pretty as all get out. Santat's bold visual style provides the perfect balance to this very tender tale. – BookRiot
This adventure into the land of friendship will tug at your heartstrings. – Kids' Book Review
Dan Santat is one of the hardest working people in the industry today. And while his immense talent was always evident, Beekle takes his artistry to a new level. – The Huffington Post
Sweet, mind-bending gumdrop of a tale – New York Times Book Review
A versatile and talented illustrator, ranges wide, drawing underwater ocean scenes, grim cityscapes, and appealing alien creatures. – Publishers Weekly
The Adventures of Beekle, The Unimaginary Friend By Dan Santat is published by Hachette Australia and is available now from Dymocks.


Join the Starts at 60 Book Club for more great reading recommendations!



Comments