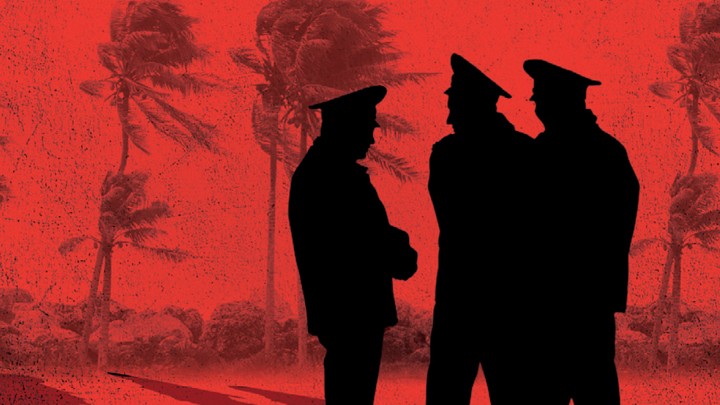 Her children… discovered her body.
She knew she had to die… she was due to appear as the chief witness against a senior detective. She knew too much and… had been given an ultimatum – either commit suicide, or we'll kill your children.
That passage, blunt and brutal, may have been taken from a crime novel; it is enough to send shivers down the spine of any reader. How much more disquieting, then, to realise it comes not from a writer's imagination but from a real life event, and right here in Australia.
On one hand, Matthew Condon's book Three Crooked Kings reads like a crime report in a newspaper, albeit 340pp long. No great surprise, because Condon is a well-regarded journalist as well as an author. On the other hand (and with no wish to make it sound like that old Yiddish story about eventualities), it is a brilliantly readable expose of the corruption inherent within the Queensland police force over many years.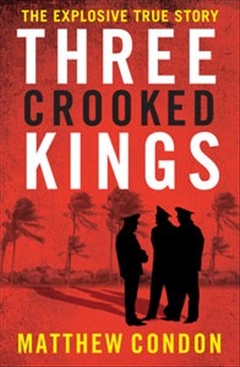 Read it and accept it as a factual recreation. No author would have the audacity to create the sets of circumstances – nor the manner of their establishment – in a novel. It would be considered too great a flight of fancy. And yet, fanciful though it may seem, the book defines events that occurred in the Sunshine State through half a century of corruption among those entrusted with the maintenance of law and order.
Much of the work is based on diaries kept through the years by one of the main participants, Terence Murray Lewis. Condon interviewed Lewis over a period of three years, as well as sourcing additional material elsewhere. His research has been painstaking. Through the book, he notes many a discrepancy, but there remains a sense that Lewis comes through slightly less soiled due to this being based so greatly on his memoirs. That may change in time.
A Rat Pack operated within Queensland Police. Three members, Lewis, Tony Murphy and Glen Hallahan, acted as bagmen for the Big Bloke, Commissioner Ray Bischof. Moneys were collected on a regular basis from SP bookies and brothels, and other illegal activities, all provided with protection. They were an enigmatic group, Murphy and Hallahan hard men and Lewis a thinker.
Bischof had an open door but it seems it may have offered regular messianic pilgrimage by his three crooked kings (the sense of the title?) rather than ready access for officers on actual police business. There must have been a great deal of money involved because Bischof, a heavy punter, was known to blow as much as $2,000 on a single bet. One scam had bookies writing up his bets as Mr. B; wins would have the entry extended as Mr. Bischof, losses as the entirely fictitious 'Mr. Baystone.'
Links were established with crooked cops in Sydney, with regular visits to the Harbour City. One of the main characters in the book, prostitute and madam, Shirley Brifman, moved south from Brisbane to become one of Sydney's most successful madams. The more she earned, the more she paid, not just to the NSW cops but also to her Brisbane 'friends.' It was a time of lucrative income for those skimming protection off the top.
Eventually, events soured. Brifman fell foul of her police friends and returned to Brisbane. Due to give evidence against one of her protectors, she knew too much. Allegedly, she was paid a visit by a quietly spoken middle-aged woman one night at her Clayfield home. The woman explained what would happen to her children if she didn't end her own life. She left a phial of barbiturates. The children found their mother dead the following morning.
Three Crooked Kings is the first volume in a trilogy by Matthew Condon. It takes us through the Bischof years and into the fateful time under the new commissioner, Ray Whitrod. The short, plump Whitrod had too many strikes against him, main among them, he was an outsider (an ex-South Australian who had recently established the Australian Federal Police), he was forthright, already making known his plan to implement promotion based on ability rather than servitude, and he was incorruptible. None of this sat well with the old guard.
Terry Lewis, the man who would become Queensland Police Commissioner, already working against and undermining his superior, is sent out West into what Whitrod considered effective purgatory. At much the same time, a new player enters the scene, Johannes Bjelke-Petersen.
There is a lot more to come as the trilogy unwinds. It reads well and does what is intended, leaving the reader itching for the next episode. To repeat that well-known phrase from the classic days of radio, "Stay tuned, folk."
Three Crooked Kings by Matthew Condron is available now from Dymocks.


Join Books at 60 on Facebook, or sign up for our weekly newsletter below for more great reading recommendations!

Comments