I thought I had a pretty good understanding of Greenpeace and how they go about their campaigns around the world: their use of peaceful protest to highlight the way countries flout the natural order of nature, often managing to wreak change through their work.
But I didn't know the half of it! I have just devoured Peter Willcox's book Greenpeace Captain, which has helped provide a far better insight into their work and the way they do things.
Willcox is the subject of the book's title, with a proud record of "…four hundred thousand nautical miles and four decades of environmental activism…" He was captain of the Rainbow Warrior when French frogmen set off massive explosive charges, blasting holes in its hull in Auckland Harbour on 10 July 1985, sinking it, trapping and murdering the ship's photographer, Fernando Pereira. It was later reported (in a French newspaper report) that the French admiral who oversaw the attack received the green light from, then, President Francois Mitterand.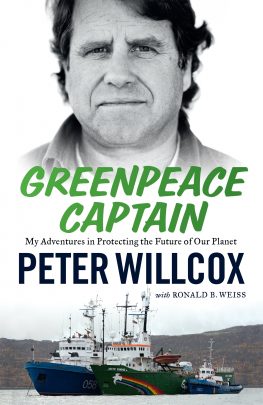 As Willcox goes on to explain, the desperate action by the French came about from Greenpeace's intention to escort a number of sailing boats to Moruroa Atoll in an attempt to stop France's atomic testing regime. "You can trust the French to over-react."
From Auckland and Moruroa, through Chile, Russia (several times), Turkey, Scandinavia, the Philippines, North Sea and many other parts of the world, their work has proven exciting and, all too frequently, personally dangerous.
Greenpeace has taken aim at the scandalous failure by governments around the world but, almost without exception, they cause no harm to individuals or property. That cannot always be said of themselves; their personal safety can be, at times, in great jeopardy.
Willcox, his ship and his crew were about to be arrested in Russian waters, well inside the 12-mile limit ("…the Soviets had let us in specifically to catch us…") This was long before the modern day ability to transmit photos and data to any part of the world in an instant; they had taken many photos proving Russia's whaling, the flesh then fed to minks. But how to get the film safely (a relative term, indeed) and quickly from Lorino to Nome, so the world would have proof of the activity? Jim Parulis, the First Mate, embarked on a trip of at least 120 miles across the Bering Sea in a RIB. His compass was unable to work effectively, and he headed off at high speed in the wrong direction!
A Russian chopper flew low over the boat, causing it to buck, with Parulis thrown into the freezing sea. He was rescued – by the Russians – but the all-important film was still tucked in a pocket on the RIB. Eventually, getting their ship in front of the circling RIB, the Third Mate, Bruce Abraham, jumped off the deck of Rainbow Warrior and landed in the runaway… breaking his ankle and rupturing a disc in his back. But he salvaged the film.
One of their actions was in the Philippines, highlighting the failure of the US to clean up their "toxic booby trap" when they withdrew after half a century in Subic Bay. A little girl named Crizel suffered acute myeloid leukaemia from water contaminated by heavy metals, PCBs and other deadly contaminants. She refused an afternoon of treatment so the captain and his medical officer could take her, with members of her family, on a tour of the Manila Harbour in a small boat. Later that day Crizel, their special little girl, died in her sleep.
What stuck in Willcox's craw was a message received from a US warship, USS Fort McHenry, in harbour, threatening to shoot them if they ever again passed so close by. "The supreme irony was the 'Home of the Brave' feeling threatened by a six-year-old girl dying of leukaemia – caused by the US military's own toxic waste. (It) made me want to puke."
Greenpeace Captain is a tale of adventure, but far from gung-ho. It is written at first hand and is thoroughly entertaining as well as involving. The audience for this book is immense, from school libraries through discussion groups to state libraries. It relates to everyone with even the slightest sense of despair at what man has done to his home, the planet, all of it government initiated.
Greenpeace Captain by Peter Willcox is available now from Dymocks.


Comments