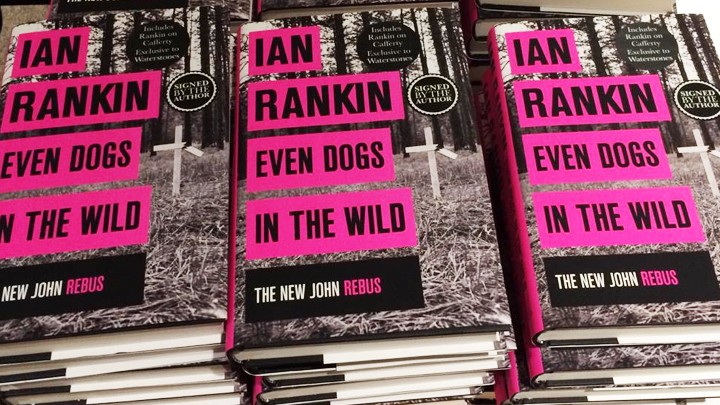 It was with great pleasure that I was reacquainted with the former DI John Rebus in Ian Rankin's novel Even Dogs in the Wild.
Immediately drawn to the somewhat unusual title, I did some research and it comes from the hauntingly sad song by the Associates called 'Even dogs in the wild'. The novel delves into the complex and dark world of murder, abuse, revenge crime, vendettas and more. The title is very apt.
Reading this latest Ian Rankin book was an unfolding of a panorama of old friends – reacquainting myself with the now retired Rebus, who is not enjoying the monotony of retirement, DI Siobhan Clarke (don't call her 'Shiv) and DI Malcolm Fox as they are drawn into a plot full of intrigue and complex undercurrents. 
Add to this the re-emergence of Big Ger Cafferty, the ageing former underworld crime boss of Edinburgh, as he is unwillingly sidelined by power-hungry younger new crime bosses who will do whatever it takes to grasp the seat of power. Clarke is focused on finding out why a murdered lawyer and Big Ger both received identical threatening notes before being shot at. Malcolm Fox, after his time in following up complaints, is now on secondment to a secret team who are intent on unveiling and defusing the threat of the takeover of outside crime bosses in their city. And who does the little wire-haired terrier left outside Big Ger's house belong to? 
We find the main characters are the same, yet older and somehow more finely drawn. It is possible to be slightly sorry for the ageing Big Ger as he seems almost vulnerable and quite bewildered by his loss of power. Rebus is thrust into the action as a most willing consultant, often forgetting the boundaries that retirement from the force has thrust upon him. Siobhan Clarke seems the most unchanged in character – still focused and driven. We see a little of the inner world of Malcolm Fox as he deals with tragedy in his own family. 
As the plot tension builds, it intricately entwines all of the characters into the depths of the dark side of the human character. There are layers of intrigue, past horrors to be exposed and the ultimate price paid for complicity or silence. Rebus and Big Ger become unlikely allies in this fight against darkness, and we see an old, tired Rebus doggedly pursue his prey with the tenacity that only John Rebus can offer.
Ian Rankin once again ushers us into a complex world of human passion and the brutal ugliness of violent crime. The reader is intimately drawn into the minds of the people whose passion it is to bring darkness and crime into the light. This is a great comeback for Rebus and is masterfully written by Rankin. A must read.
Even Dogs in the Wild is available now from Dymocks.


Join the Starts at 60 Book Club for more great reading recommendations!



Comments