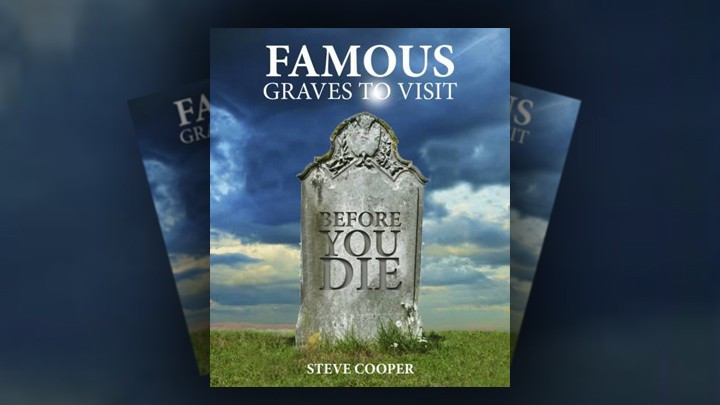 An interesting book… even if it sounds a bit morbid. The cover blurb reads, "Steve Cooper is a science fiction novelist and screen writer. A former history teacher, he holds a BA majoring in philosophy and history. Famous Graves To Visit Before You Die is his first non-fiction book." In summation? A good start, Steve; worth your while doing others.
The book is separated into eight chapters: 1, Politics; 2, Arts and Literature; 3, Historic; 4, Popular Music; 5, Infamous; 6, Film and TV; 7, Criminal; 8, Antiquity, each section around 30 pages. As readers, we will be familiar with the great majority of the graves outlined in the book or, perhaps more correctly, those whose remains are incarcerated within. Cooper's notes provide a précis of the individual lives and contain information that reminds us of those featured.
It isn't possible to review the 80-odd events, so a few brief glimpses into the book must suffice. Firstly, those in the chapter headed Infamous appear there frequently through the circumstances of their demise or the villainy of others involved. Among them are Martin Luther King, James Dean, J Edgar Hoover and Sharon Tate, a truly eclectic group. I found a note from the chapter about John Belushi (1949 – 1982) a little strange: "…his headstone has been vandalised so often that his remains were removed to a secret location… in Martha's Vineyard… to give him rest." Would that not make his gravesite difficult to visit?
Most of us will know about Richard III, the last Plantagenet king, how he died in battle in 1485 but was only finally given proper burial earlier this year. Now buried at Leicester Cathedral, he spent 527 years interred in a field that eventually became a car park, then rediscovered during excavation work in 2012. I believe his place in the Criminals category somewhat conjectural because the mores of the time in which he lived and died were so greatly different to those of today. Others in the section include Lee Harvey Oswald, Bonnie and Clyde, and Ned Kelly.
As ever, when reading the Historic entry on George Washington's grave at Mount Vernon, I recalled the dreadful attempts to save his life in his last hours: Four bleedings that totaled perhaps two litres (!), enema, purgative, blistering. Something I never knew was that, in 1837, when reinterred with his wife and daughter, the key to Washington's vault was symbolically thrown into the Potomac River.
The final chapter, Antiquity, includes a number of grand memorials, including the Medici Chapels, the Mausoleum of Qin Shi Huang and the Taj Mahal, built by Shah Jahan as a shrine to his beloved wife, Mumtaz Mahal. Last in the book, but far from least, is Auschwitz-Birkenau, forever reflective and sobering, "…not a tomb of magnificence… maintained as a shell that depicts, in the imagination, moments of horror to remind the world, 'never again.'"
The pen pictures are generally well done but a few little mistakes creep in from time to time. The strangest of these is "the Pharaoh Khufu built the Great Pyramid of Giza 61 centuries ago." By my reckoning, 2566 B.C. to 2015 A.D. is a span of around 45 centuries! Perhaps we ought not dwell too long on the author's maths.
Buy this book. It has a sound place in the home as a conversation piece. For every entry, there is at least one other that will come to mind. It would be no surprise if Famous Graves To Visit Before You Die spawns a sequel… or two. A publication suited to general consumption and one that may provide Q&A for trivia nights, it would make a good introduction and be a worthy thought starter for young, questing minds; in other words, a springboard to further discovery. It may contain the odd flaw but is, nonetheless, highly recommended.
Famous Graves To Visit Before You Die by Steve Cooper is available to purchase from Dymocks.


Comments