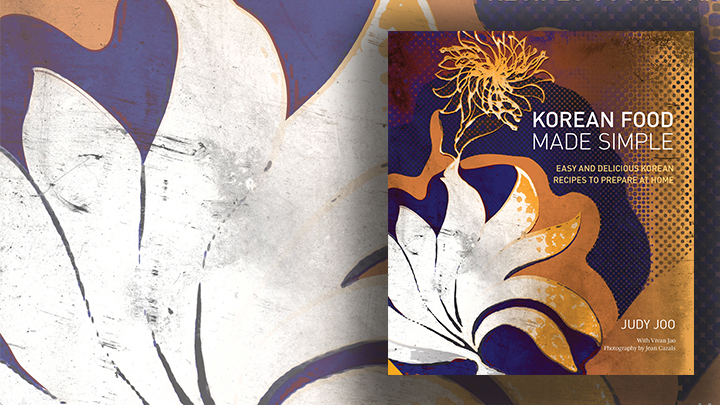 There is a well known saying, "you can't judge a book by its cover".
The cover of Korean Food Made Simple – Easy and Delicious Korean Recipes to Prepare at Home by Judy Joo with Vivian Jao, is beautifully designed with a strong Korean use of simple balance, colour and form. It promises much and yes you can judge this book by its cover. It delivers!
I love the first sixteen pages that are a carefully selected eclectic mix of Korean scenes, photography by Jean Cazals – they set the atmosphere.
So often I have purchased recipe books (I am a bit of a cook) to find the ingredients are foreign to me or cannot be purchased easily in many locations in Australia. How logical to place, "The Korean Storecupboard" at the very beginning. Not only is there a comprehensive list but also information about the ingredient, what it is, where it may be used and how to store it.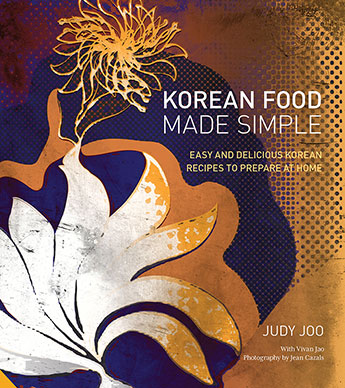 The chapters are clearly laid out in and flow from "Kimchi and Pickles", (basic ingredients used in many recipes that follow) through small food, noodles and soups, then all the different types of main dishes to sauces and culminating in sweets and drinks.
All chapters include mouth-watering clear photographs that have so much appeal with wonderful textures and colours. Enough to make you yearn to try each one. I found the inclusion of other photographs helped set the Korean context.
I also found the notes at the beginning of each recipe invaluable. For example, "do not substitute Chinese black bean sauce here, as it is completely different" and "I borrow from that wonderful tradition and add some Korean flavours…. Serve with steamed white rice that is great for soaking up the broth left at the base".
I also love the way her 'method' (in older terms) is set out down the right-hand side of each recipe. Terms such as; in a small bowl, in a large non-stick frying pan, stir in the black bean paste and meanwhile …
Simple! Yes, it is just that and should appeal to all people who love to cook and who appreciate the variety of cuisines that we are so blessed with.
We all are spoiled for choice with cookbooks and recipes so readily available. However, for me, this one is unique and way up there with the best.
This could well be a coffee table book. However, it will spend most of its time in the place of honour in my kitchen; my recipe stand.
Korean Food made Simple – Easy and Delicious Korean Recipes to Prepare at Home, by Judy Joo with Vivian Jao, photography by Jean Cazals, is available from Dymocks.


Join Books at 60 on Facebook, or sign up for our weekly newsletter below for more great reading recommendations!



Comments