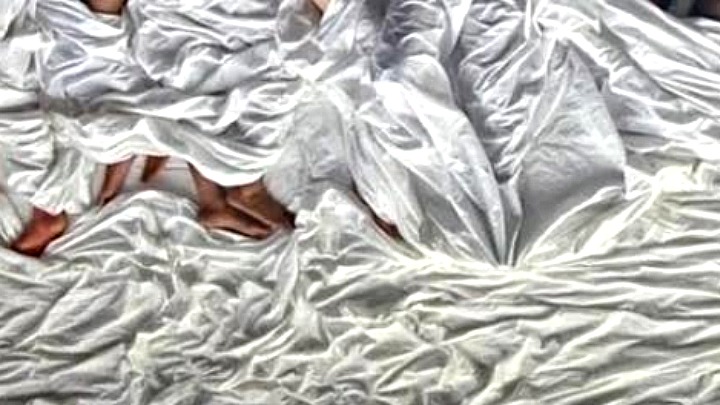 Why are we not surprised, Kanye West has unveiled a bizarre and twisted new video for his song Famous that features an orgy of naked celebrities in bed together.
The visual features the controversial rapper with his wife Kim Kardashian naked and asleep, along with ten other celebs including Taylor Swift and Ray J, reports Daily Mail. 
A slow zoom out reveals their other bedmates to be Amber Rose, Caitlyn Jenner, Bill Cosby, George W. Bush, Donald Trump, Anna Wintour, Rihanna and Chris Brown, all snuggled up beside them in the enormous bed.
No one knows how many – if any – of the famous faces are the actual real celebs, or just a combination of lookalikes and digital trickery and West has so far kept quiet on the matter. He even mockingly tweeted that he was waiting to be sued.
In the song, Kanye infamously rapped about Taylor that he "made that b***h famous," and adds that they might still have sex.
Swift, who is fully exposed, was "seen" beside Kanye himself while Kim who was on his other side had her ex boyfriend Ray J, the co-star of the sex tape that arguably put her on the road to megastardom also was "seeen".
While all the men in the video was covered up by strategically placed legs and sheets, the ladies had no such cover and some were fully exposed.
The visual was actually debuted in front of 8,000 people on a 100-foot screen at an L.A. Forum, shocking many.
Some people claim that the image was inspired American realist Vincent Desiderio's painting 'Sleep', of 12 anonymous people in similar slumber poses.
While some fans said they felt sick watching it, others were seen cheering in this video here…
Has Kanye gone to far with his content?
Comments