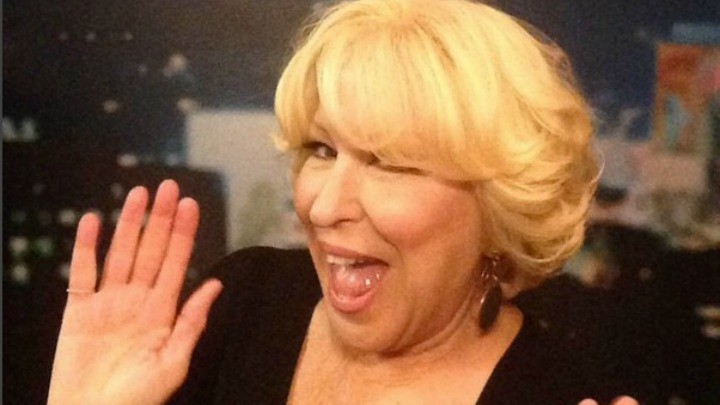 Bette Midler is having a great year already. In January, she turned 70 and now she is appearing in a hit fashion campaign surrounded by waifs and other wonderful people, and she's having so much fun doing it!
Marc Jacob's Spring/Summer campaign is all about Americana and the best symbols of that culture. By including Bette Midler, in the 'family' he created for the campaign, Jacobs got the chance to honour one of his heroes.
Sharing the first images on Instagram, he wrote, "What a privilege it is to know your heroes.

"My earliest memory of Bette Midler was somewhere around the age of nine years old. I remember (at that young precocious age) hearing about her performances in the basement of the Ansonia Hotel's, Continental Baths. I vividly remember the genuine excitement and love I had for Bette's music. I was curious and excited by her energy, power and the exuberance in her voice and bold, brassy glamour.
"To this day, I still credit Bette Midler (unbeknownst to her) with a large part of my foray into fashion design. At age ten when I discovered the image drawn by Richard Amsel for her album cover, I was so instantly enamored by the silhouetted Bette in a black dress wearing platform sandals with a wedge of red curly hair that I recreated it on the back of a jean jacket with acrylic paint and embroidery floss and proudly wore it to school.
"The onset of the spring/summer 2016 season began with my interest in the pride of being an American, however, I have always maintained that I'm a New Yorker above all else, a different breed entirely – one whom at nine years old is aware of the Continental Baths and more importantly the sexy, glamorous and sublime, Bette Midler."

The designer continued to gush about the Divine Miss M, describing "her beauty, her brass, her glamour" and "that energy, vitality, verve, nerve and curve…"


For her part, Bette was absolutely thrilled with the way the pictures turned out:
Are you a fan of Bette Midler? Doesn't she look like she's having fun? What's your favourite Bette Midler memory?
Comments