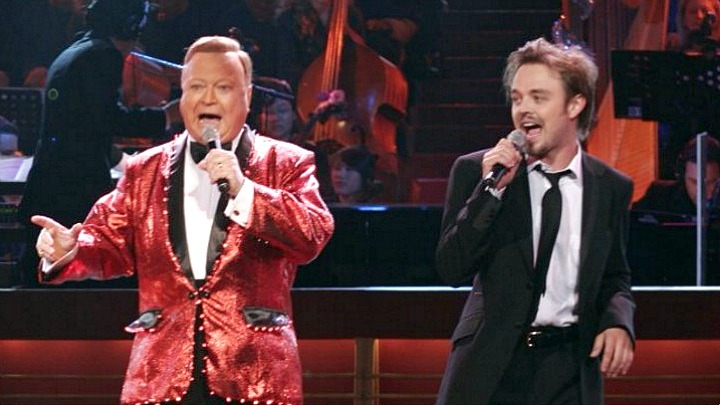 Bert Newton made a name for himself as one of the country's most beloved television personalities, but for years he has stayed quiet on his son Matthew's volatile past.
Now though, Bert has opened up about his family and shown his support for his son after years of battling to get him back on track.
"I have always prayed for a happy ending, and I think it has arrived," Bert said of Matthew in an interview with the Herald Sun.
"He is happy, he's doing good things, and that's the most important thing.
"I'm overjoyed.
"He is a great writer, he is a great director and a fine actor and he is happy."
Earlier this year, Matthew won critical acclaim for his film 'From Nowhere', which he wrote and produced.
It was a welcomed turnaround after years of controversy and legal troubles.
In 2007, he was charged with assaulting his former girlfriend, ex Neighbours star Brooke Satchwell.
Later in 2010, Matthew's new girlfriend, Australian actress Rachael Taylor took out an AVO against him after an attack in the foyer of a hotel in Rome.
He was also charged in 2011 for allegedly assaulting a cab driver on the way to a children's party in Sydney, which was later dismissed.
Only a couple of years later, in 2012, he was arrested twice in Miami, Florida for trespassing and resisting arrest and battery.
It looks like he has managed to turn his life around though with Bert singing his praises and saying he is happy to finally see his son back on track.
Bert, who turned 78 on Saturday, also spoke about becoming a grandparent for the first time, saying it was one of the greatest joys in his life.
"They wouldn't realise it at the moment, but they have made this one of the happiest times of my life," he said of his grandchildren.
"There is that old saying, the wonderful thing about being a grandfather, or grandparent, is that you give the kids back.
"But in the case of Patti and myself, we don't want to."
"It really has given me a new lease of life," he said.
"It's a special time,
"I've been a very lucky bloke.
"I've had a career. I never realised when I started out I would be around as long as I have been.
"But towards the twilight years, it's terrific to have such love from four wonderful little kids."
Are you happy to see Matthew Newton has turned his life around? Are you a fan of Bert?
Comments