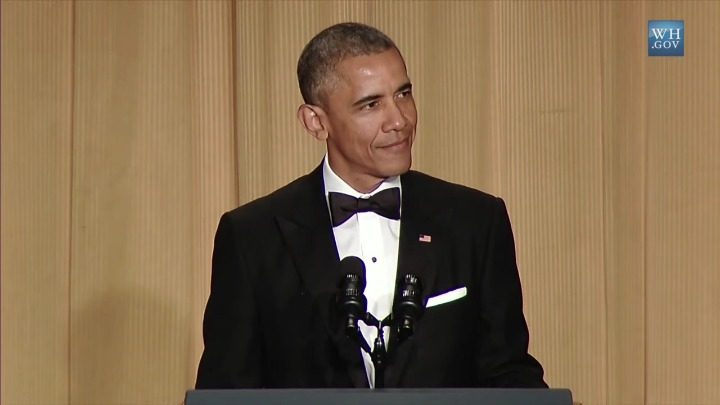 Talk about going out with a bang!
United States president Barack Obama has given his last ever speech at the annual White House Corespondents Dinner and he sure didn't hold back.
From the Kardashians and Donald Trump, to his own party mates Bernie Sanders and Hillary Clinton, Obama let fly at them all.
The dinner is a glitzy event that is held every year and is attended by politicians, journalists and media heavy-weights, as well as a slew of celebrities.
Speaking about Donald Trump, Obama joked about being disappointed and bemused as to why Trump didn't attend the event.
"I am a little hurt that he's not here tonight. We had so much fun the last time," Obama joked.
"It is surprising. You've got a room full of reporters, celebrities, cameras and he says no.
"Is this dinner too tacky for the Donald? What could he possibly be doing instead? Is he at home, eating a Trump steak? Tweeting out insults to Angela Merkel? What's he doing?," Obama asked the crowd of guests.
"The Republican establishment is incredulous that he is their most likely nominee. Incredulous! Shocking! They say Donald lacks the foreign policy experience to be president.
"But, in fairness, he has spent years meeting with leaders from around the world — Miss Sweden, Miss Argentina, Miss Azerbaijan," he joked, referring to Trumps infamous Miss Universe beauty pageants.
"And there's one area where Donald's experience could be invaluable and that is in closing Guantanamo, because Trump knows a thing or two about running waterfront properties into the ground."
While the crowd was roaring with laughter, one of Trumps son's was in the audience and look very unimpressed with the jokes to say the least.
Speaking about Kendall Jenner (one of the youngest Kardashians and a successful international model) he said he'd met her earlier in the night, but wasn't really sure why she was there.
"We had the chance to meet her backstage and she seems like a very nice woman.
"I'm not sure what she does but I'm told my Twitter mentions are about to go through the roof," he quipped, referring to her millions of young followers on social media.
"Say hi to Kim and Kanye," he finished, taking a swipe at the couple who have publicly stated they are great friends with the Obamas – much to the Obamas' amusement.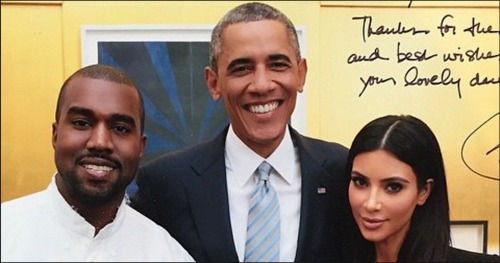 The president has made a name for himself as one of the funniest men in politics, always making sure he makes a few jokes at his own expense too.
He mentioned Democratic presidential candidate Bernie Sanders and joked about the rumours they were both closet Communists.
"I'm disappointed you're distancing yourself from me," Obama said, looking to Sanders, who was in the audience. "That's just not something you do to your comrade."
He finished his speech with an epic exit, saying "Obama out" and dropping his mic to the floor.
You can watch the full speech in all its hilarity below.
Are you a fan of Barack Obama? Who do you hope will be the next US president? Donald Trump, Bernie Sanders, or Hillary Clinton?
Comments