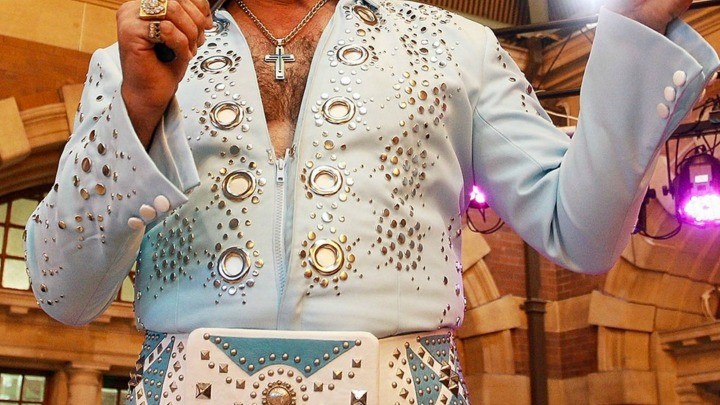 Every January, Parkes in Central New South Wales is overrun with men in white suits. Copious amounts of hairspray are required – and that's just for the blokes!
Yes, it's the annual Parkes Elvis Festival, held in early January to coincide with The King's birthday on January 8.
The regional town's population swells from 12,000 to more like 40,000 as Elvis fans descend, ready to compete in the lookalike and soundalike competitions.
Parkes is 365 kilometres west of Sydney and the whole town becomes a throwback to the 50s and early 60s.
The festival was started by some passionate local Elvis fans; according to the festival's website, one local changed his name to Elvis by deed poll and another local couple operated Gracelands Restaurant for many years. The first Elvis festival was held in 1993 and Parkes, which is also famous for it's satellite dish, became known as the 'Elvis Capital of Australia'.
Events during the festival include concerts, the Elvis Gospel Service, the Northparkes Mines Street Parade, the popular Renewal of Vows, the Miss Priscilla Dinner and Poets' Breakfast.
Here are some of the best pictures of the 2016 Parkes Elvis Festival, which wraps up this weekend. Enjoy!
#ParkesElvisFestival street parade at 10am today, head to Clarinda street early and get your spot! #parkeselvis pic.twitter.com/sniYbNZ2im

— Parkes Shire Tourism (@ParkesTourism) January 8, 2016
Look who finally made it to #ParkesElvisFestival #parkeselvis #funinacapulco https://t.co/BZg8OI5a6R pic.twitter.com/0svRzN7JgC

— Parkes Champion Post (@ChampionPost) January 8, 2016
Happy birthday, Elvis. This sweet Elvis-child has all the moves. You'd be proud #parkeselvisfestival #ElvisBirthday pic.twitter.com/kBF5N7UpHe

— Tara Moss (@Tara_Moss) January 8, 2016
in Parkes? Look for the official #Elvis impersonator: https://t.co/aJIWTppVsl #ParkesElvis #ParkesElvisFestival pic.twitter.com/pXLlJ0cXLC

— LivingWellNavigator (@LWNau) January 7, 2016
Gallery Thousands of Elvis Presley fans & lookalikes head to #ParkesElvisFestival 2016 https://t.co/Ox26p3dU5K pic.twitter.com/i80VESkcMY

— IBTimes UK (@IBTimesUK) January 7, 2016
Elvis festival kicks off down under #ParkesElvisFestival https://t.co/MNJZBYKJAU pic.twitter.com/M1j64cXDtc

— Anne Steffan (@nnStffn69) January 8, 2016
Have you ever been to this festival? Would you like to go? Would you be an observer or a participant?
Comments