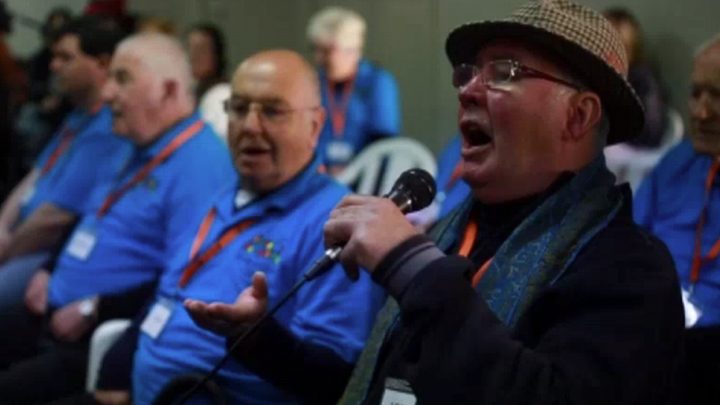 After a stroke damaged a part of his brain that controls speech, a condition known as aphasia, 66-year-old Adrian Eagleton is only able to communicate using a few words. Adrian's speech pathologist, Bronwyn Jones, told ABC that he only "has got five words, and several of them are rude words, and that's about it". That is until he sings.
Taking part in the Stroke a Chord choir, which caters for people in a similar condition, Adrian can sing full songs since the area that processing singing in the brain remains undamaged. Singing allows patients, like Adrian, to communicate finally via song. Ms Jones said, "His sister came over from Adelaide when we first were rehearsing, and she cried the first time she heard him sing."
To celebrate the sixth birthday of Stroke a Cord, the choir performed a stirring rendition of The Righteous Brother's 1965 classic Unchained Melody. The performance also features Adrian with a genuinely moving solo. "We haven't done our job unless Adrian's brought a tear to peoples' eyes," Ms Jones said of the performance.
Video of the song can be viewed via the ABC.
 Do you know someone who found creativity in recovery? Were you able to keep a dry eye during the song?
Comments