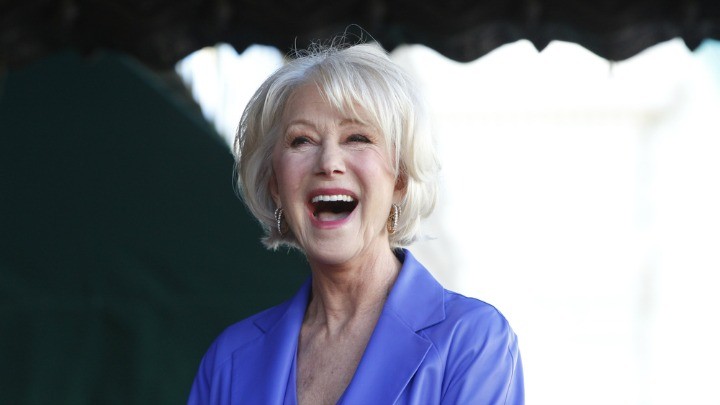 It's been a while since we've heard from Helen Mirren, but she's made it worth the wait!
She has been honoured at the Gotham Awards – the first major awards show of the film season – and has proceeded to shock the pants off the audience with her irreverent style and grace.
Mirren was bestowed with a career achievement award at the untelevised New York ceremony, which was presented to her by Robert De Niro.
De Niro said "I know I'm on the edge of creepy here" before praising Mirren on her sex appeal. Referring to her portrayal of Queen Elizabeth II, he added: "Now when you hear someone say f**k the queen, they might not necessarily be trying to take down the monarchy."
rather than blushing demurely, Mirren took the bait, countering with an equally shocking anecdote about her sex life with husband Taylor Hackford.
"I have to tell you a story about f****** the Queen," she said. "When The Queen was first screened at Venice, I'd never seen it before, and neither had my husband Taylor.
"In the first scene I am in full regalia, and I turn to the camera and there's silence in the cinema. And my husband lets out this huge laugh.
"So I lean over to him and say, 'Darling, do you think you'll ever f*** me again?"
With a saucy look at the audience, Mirren added, "Between you and me, he has."
Dame Helen is known for her "blue" language, and was told off earlier in the year for swearing on breakfast television in the UK.
She has never been apologetic about it. The Telegraph reports that in 2013, she asked samba drummers outside a London theatre to "Shut the f*** up", and drew ire from a British columnist by describing her age at the time (68) as being "f****** awesome" at Glamour's Women of the Year Awards.
A few days after the Gotham Awards, Mirren appeared at a cocktail party wearing this stunning dress and reminding us all that she is indeed, as she says, "f****** awesome".
Do you love Helen Mirren? Does her swearing bother you?
Comments