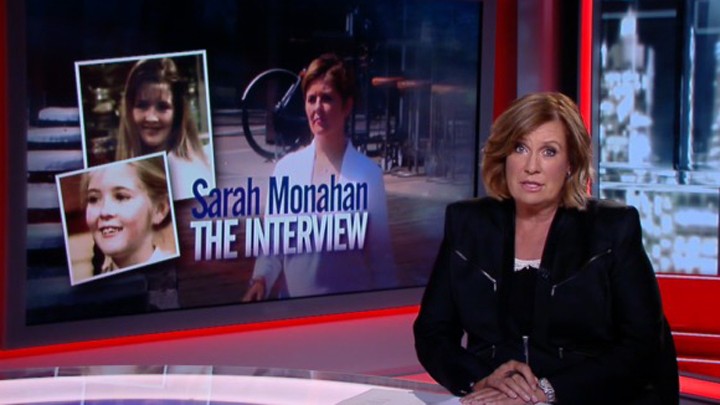 On last night's A Current Affair episode, host Tracy Grimshaw sat down with former child actor Sarah Monahan to discuss life after the trial of Robert Hughes. For the unaware, Hey Dad! actor Robert Hughes was found guilty of 10 counts of sexual and indecent assault on four young girls, and jailed for at least six years in 2014.
Ms Monahan, who was abused for years by her on-screen father on the set of the family show, has now released a memoir about one of the darkest secrets in Australian television history, reports the 9News.
Perhaps the saddest art about the interview was the admission that Ms Monahan's mother abandoned her after she stood up for herself.
"She got on the stand [during the trial] and said that she knew, but I guess she came from an era where it was… you just didn't deal with it. She chose to just not do anything."
"I asked for help and nobody did anything. So I've always just… I guess I gave up on people and I probably gave up on her."
Ms Monahan said the trial brought back all the memories of how Hughes had touched her and others had denied it.
"I was on the stand for longer than the other four girls combined. He kept me on there for four days," she said.
"And it was the last day when I was tired and I screwed up a little bit, I didn't think that I could live with the fact that I could have messed up the case."
"I remember going back to the hotel and the police called me to make sure that I hadn't killed myself that night because I was so devastated".
There's still a long road, with Hughes due to lodge an appeal soon, meaning Ms Monahan may need to go back to court.
Monahan was just six when she joined the cast for the 1987 Channel 7 program, and 10 when she claims she was first flashed by the man who played her TV father.
"I can understand why some girls choose not to (come forward)," she said in 2014 to ACA. "I feel really bad for those girls who choose not to go public".
After the piece on Ms Monahan had aired last night, Tracy Grimshaw took an opportunity to address the audience for more than two minutes.
When ACA broke the story about Robert Hughes sexual abuse of cast members and other girls in 2014, some said it was chequebook journalism, but now the show has hit back at those claims.
Grimshaw admitted that while ACA gave the police some headaches, they had done the right thing by running the story. In the monologue, Tracy said A Current Affair pursued Robert Hughes and tracked him down, then were accused of trash journalism. Some said it was a trial by media and that ACA were accusing him without a police investigation.
"Let me assure you: there would never have been a police investigation if Sarah hadn't talked and if we hadn't taken up story and made some noise. I admit our unorthodox approach gave police some headaches but there were so many girls who had gone unheard and so many people who had been silenced", she said.
"Without the power of the collective voices, Hughes was untouchable. Yes, we gave police headaches but gave them dozens of victims, witnesses and affadavits. And there's more: Robert Hughes was protected. He was protected on set and continued to be protected through power and intimidation for decades. What a disgrace. Finally, he's where he belongs. Sarah and the other girls and everyone who spoke out can hold their heads up".
"One last thing about chequebook journalism. Maybe in an ideal world no one would pay for stories but in ideal world no one would molest little kids. And no one would threaten others to remain silent. We don't live in ideal world… money isn't what matters, truth is what matters and the jury came to the same conclusion".
We want to know your thoughts about this. Did you watch?
Comments