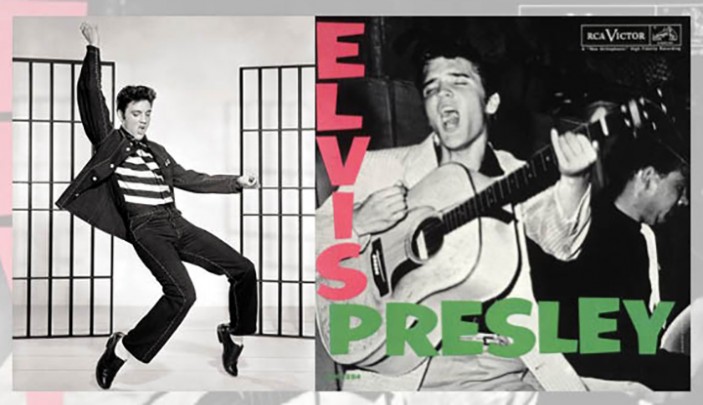 The 60th anniversary of Elvis Presley's first album "Elvis Presley" is so close we can touch it, and we have to stop, remember and celebrate it today.  The album which brought us Blue Suede Shoes, Blue Moon and the start of a movement has to be remembered.
Recording studio RCA Victor released Evlis Presley's self titled album on the 23rd March 1956.  On it was five songs from a previous series of recordings by Sun Records, and seven of a broad variety.  We can now look back on that album as the album that defined the evolution of rock and roll.  It had two country songs, a bouncy pop tune and three R&B numbers, and the most important song of all…  Blue Suede Shoes…  Many think it contained songs like Hound Dog and Heartbreak hotel, but those came later in that year of 1956.
It became the first rock-and-roll album to top the Billboard chart, a position it held for 10 weeks.   For one of the first times, the guitar was made the centrepiece of pop music.  And Elvis's stage presence was said to be one of the iconic reasons why.  There was nothing like Elvis with a guitar in his hands jumping up and down on stage.
After a show in La Crosse, Wisconsin, an urgent message on the letterhead of the local Catholic diocese's newspaper was sent to FBI director J. Edgar Hoover. It warned that "Presley is a definite danger to the security of the United States. … [His] actions and motions were such as to rouse the sexual passions of teenaged youth. … After the show, more than 1,000 teenagers tried to gang into Presley's room at the auditorium. … Indications of the harm Presley did just in La Crosse were the two high school girls … whose abdomen and thigh had Presley's autograph."
Ben Gross of the New York Daily News opined that popular music "has reached its lowest depths in the 'grunt and groin' antics of one Elvis Presley. … Elvis, who rotates his pelvis … gave an exhibition that was suggestive and vulgar, tinged with the kind of animalism that should be confined to dives and bordellos".
Ed Sullivan, whose own variety show was the nation's most popular, declared him "unfit for family viewing".
To Presley's displeasure, he soon found himself being referred to as "Elvis the Pelvis", which he called "one of the most childish expressions I ever heard, comin' from an adult."
Blue Suede Shoes (1956)"Blue Suede Shoes" by Elvis Presley (1956) — For more videos like this, please follow (Like) the Official Facebook Page of Sydney Urshan!"Blue Suede Shoes" was written and first recorded by Carl Perkins in 1955 and released on his album entitled Dance Album of Carl Perkins on January 1, 1956. It is considered to be one of the first rockabilly songs. The single was on the Cashbox Best Selling Singles list for 16 weeks and spent two weeks at #2. In 1986, Perkins' version was inducted into the Grammy Hall of Fame. In 2004, his version was ranked #95 on Rolling Stone‍ 's list of the "500 Greatest Songs of All Time" and in 2006, it was included by the National Recording Preservation Board in the Library of Congress National Recording Registry.Elvis Presley released "Blue Suede Shoes" on his self-titled debut album on March 23, 1956, and later as a single on September 8, 1956 which reached #20 on the charts. His version was #423 on the "500 Greatest Songs of All Time" by Rolling Stone. The album spent 10 weeks at #1 on the Billboard Top Pop Albums chart in 1956, the first rock & roll album ever to make it to the top of the charts. In 2003, it was ranked #56 on Rolling Stone's list of the "500 Greatest Albums of All Time."The Rock and Roll Hall of Fame listed "Blue Suede Shoes" in the "500 Songs that Shaped Rock and Roll."This video was Elvis' 1956 Paramount screen test for his second feature film Loving You (1957). (I think the producers just wanted to see him perform it…)#BlueSuedeShoes #ElvisPresley #CarlPerkins #Cashbox #RollingStone #GrammyHallOfFame #Paramount #ScreenTest #LovingYou #RockAndRoll #Rockabilly #Elvis

Posted by Sydney Urshan on Monday, July 13, 2015
The album was later re-released in 1999 with all the other songs of this period including Heartbreak Hotel and Shake, Rattle & Roll.
1999 Reissue with Bonus Tracks
| No. | Title | Writer(s) | Length |
| --- | --- | --- | --- |
| 1. | "Heartbreak Hotel" | Mae Axton, Tommy Durden, Elvis Presley | 2:08 |
| 2. | "I Was the One" | Aaron Schroeder, Claude Demetrius, Hal Blair, Bill Peppers | 2:34 |
| 3. | "Blue Suede Shoes" | Carl Perkins | 1:58 |
| 4. | "I'm Counting on You" | Don Robertson | 2:24 |
| 5. | "I Got A Woman" | Ray Charles and Renald Richard | 2:23 |
| 6. | "One-Sided Love Affair" | Bill Campbell | 2:09 |
| 7. | "I Love You Because" | Leon Payne | 2:42 |
| 8. | "Just Because" | Sydney Robin, Bob Shelton, Joe Shelton | 2:32 |
| 9. | "Tutti Frutti" | Dorothy LaBostrie and Richard Penniman | 1:58 |
| 10. | "Tryin' to Get to You" | Rose Marie McCoy and Charles Singleton | 2:31 |
| 11. | "I'm Gonna Sit Right Down and Cry (Over You)" | Howard Biggs and Joe Thomas | 2:01 |
| 12. | "I'll Never Let You Go (Little Darlin')" | Jimmy Wakely | 2:24 |
| 13. | "Blue Moon" | Richard Rodgers and Lorenz Hart | 2:31 |
| 14. | "Money Honey" | Jesse Stone | 2:34 |
| 15. | "Lawdy Miss Clawdy" | Lloyd Price | 2:08 |
| 16. | "Shake, Rattle & Roll" | Jesse Stone (as Charles Calhoun) | 2:37 |
| 17. | "My Baby Left Me" | Arthur Crudup | 2:12 |
| 18. | "I Want You, I Need You, I Love You" | Lou Kosloff and George Mysels | 2:40 |
Comments