If you are travelling on a tour, you are relatively safe. If you are on your own however, it is important that you are inconspicuous. Do not dress like a tourist. It's amazing how thieves have  their radar out for those that are most vulnerable. Don't make it easier for them. Men, make sure that you don't carry your wallet in your back pocket. Professional pickpockets can easily lift it before you know what has happened.
When walking around a strange city, don't carry a handbag across your shoulder with your valuables. Thieves will easily slit the strap and run off with your bag and all its contents. For added protection get a slash proof security handbag or backpack. These have mesh in the lining and wire in the straps which are slit proof. Even better, have a small pouch with cash and credit cards in it that you can carry under your shirt.
When walking around on your own in a city, stay away from overly crowded areas and in public places be alert to your surroundings. Seniors tend to be trusting.  Don't trust any stranger on the street who seems to be "too" friendly.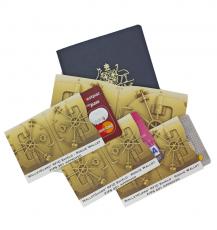 A common one, which we have personally experienced is when a car pulls up beside you and a person holds out a badge claiming to be the police. If he asks for your passport – just keep walking. These are scam artists looking to get hold of your passport and if they succeed, you have just been a victim of identity theft. For extra safety, do not carry your passport with you, leave it at your hotel safe and just have a photocopy of it with you.
If you are carrying credit cards or hotel keycards on you, make sure you keep these in anti-RFID pouches or handbags. RFID (Radio Frequency Identification Devices) refers to embedded information within chips on credit cards and passports. Even hotel keycards have all your identity information embedded within them.
Scammers can walk a few feet away from you on the street and scan your cards, even your hotel keycard. For the same reason, don't allow your credit card to be out of your sight even in a restaurant, employees can be dangerous.
There are even mobile phone apps that can be used to scan your card. When checking out of a hotel, do not return the keycard; cut it up so no one can get your details.
On arrival at an airport, particularly in some eastern European countries, beware of people purporting to be taxi drivers. Often they are not registered and will literally take you for a ride, at an exorbitant price. If in doubt, go to a taxi desk.
If you need to do banking, avoid using your mobile devices or wifi. Clever tech savvy thieves can access wifi networks and gain access to your account information.
Better still, if you have a laptop, connect it to the internet with the hotel cable.
If you are travelling with mobile phones or tablets, make sure that you have them password protected, so that if they are ever lost or stolen, your important information will be protected. Also make sure you have backed up your important information such as photos and documents to online sites such as Dropbox or Photobucket.
Secure yourself so that your dream holiday does not become a nightmare.
Do you have any other travel safety tips you want to share?  
Ely and Adele head off on a large tornado chasing adventure this week.  We'll be posting the occasional article here from their journey or your can follow them on their travels at the links below.
http://travelblogs.mapquest.com/elyl2/the-passionate-retirees-adele-and-elys-2012-trip