Not only did I begin to receive other people's photos, but also I have been presented with all sorts of bovine gifts and paraphernalia! Dinner bells, shopping bags, a sunglasses case, a teapot trivet, a money box, mugs, a kettle, a USB, salt and pepper shakers, toothpick holders, ornaments, egg cups, bookmarks and more! And thanks to social media, I've also been sent some pretty funny stuff! The contribution that takes the cake, however, is a beanie that is shaped like a cow's head – no bull!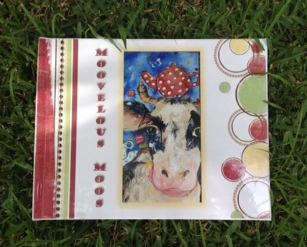 It may sound as though this whole cow thing has spun out of control, but what I am gathering is no longer just a collection of MORE cow "stuff". It really is developing into a lovely friendship book. Each item that's given to me is photographed, ready to take its place in my album! I have the most fabulous array of cow photos from all over Queensland and Australia for that matter! This will also be a multicultural collection as I have cows from Africa, Italy, Switzerland, the Scottish Highlands, Ireland, Croatia, New Zealand and The Netherlands, all gathered by friends on holiday! Nice to know my friends remember me when they're on holidays! You soon find out who your real friends are, if they're not in this next album, there'll be a question mark over that friendship!
When the day comes that I am "put out to pasture" I will derive a great deal of pleasure from flipping through the pages of my "OP Cows" album and remembering the friends who took the time to indulge me and my bovine fascination! Thank you to all of you and may we all be "chewing the cud" for many years to come!
What have you collected over the years? And have you considered photographing these items for an album? Making an album gives you the chance to write anecdotes or explanations that go with the item. At least when the memory struggles to remember who gave you what, you'll just have to open your album – it works for me!