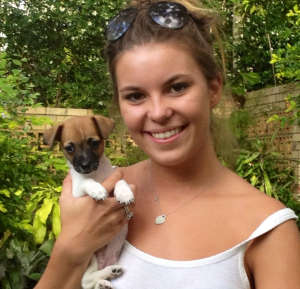 Have you ever found yourself in a situation you swore you wouldn't be revisiting any time soon? Almost two years ago we said a very sad and final farewell to a special member of our family, Bubbles, our 12 year old Maltese Terrier. He was our baby and held a very special place in our family so losing him was heart breaking. We couldn't imagine going through that experience again so swore that we wouldn't be having another dog for quite some time – we'd never say never, because we're a family of dog lovers!
And then our daughter, Kate, decided to come back home to live… She already had a rat, named Marvin and now she was pleading for us to give her the nod to buy a puppy, which would also be moving home with her. Well, we weakened, again, and that's how we came to have this little bundle of joy, named Daisy, join our family. Of course there were conditions. Kate has to be totally responsible for this little pup which means taking care of toilet issues, exercising, playing, feeding, dog obedience classes, microchipping, registration, vaccinations etc. I have to be fair and give credit where credit is due. To date Daisy is very well cared for in every aspect of a puppy's life  by her owner/Mum.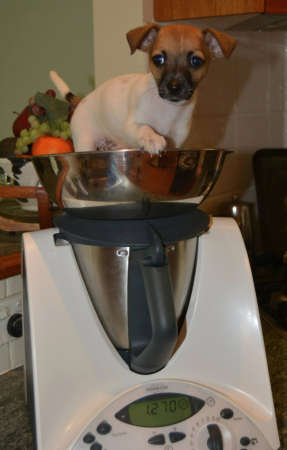 Daisy became Kate's responsibility at the tender age of seven weeks and was such a tiny little thing! She is a mini fox terrier x Pomeranian (and I swear there's a bit of Jack Russell in there too!). She weighed just 720gm and was much smaller than a tissue box. When she arrived home in Brisbane one and a half weeks later, she weighed 1.270kg! We know this because a friend of mine popped her into the bowl of her Thermomix, which instantly showed her weight on a digital screen. She had the cutest little floppy ears and was the quietest puppy I have ever known.