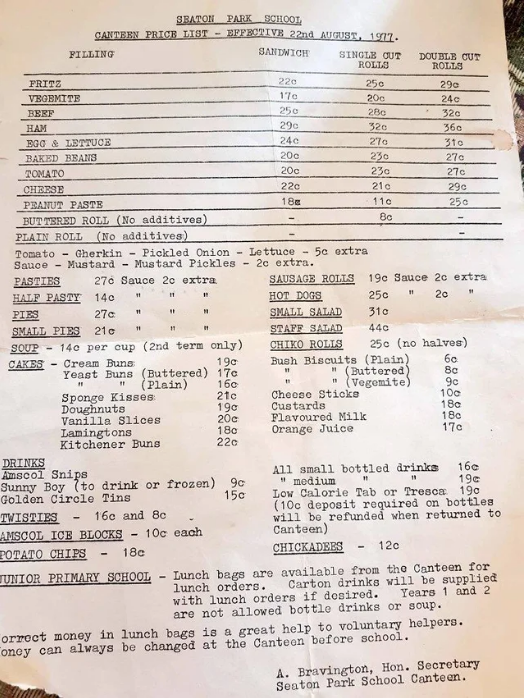 For the drinks students could choose from a Sunny Boy for just 9 cents while flavoured milk cost 18 cents.
The menu even contained a surprising message at the bottom about what some students could and couldn't purchase.
"Years 1 and 2 are not allowed bottle drinks or soup," it read.
It didn't take long for Boomers to comment on the post with many reflecting on their own experiences with canteens as a child. Some explained what their favourite snacks were while others made mention of the differing prices.
"Wow, that's cool," one person wrote. "Made me remember my school canteen and the stuff we liked there then. A fav [sic] was a hot cheese roll, for like 50C, and was a plain white bread roll, with cheese inside, wrapped in aluminium foil and heated just so that the cheese would melt and the roll was warm with the crusts made crispy. Real nice, especially on winter days."
Another added: "Wow that's crazy. I remember 10C Sunny Boys!"
Read more: Remember school lunches? 1974 tuckshop menu shows classic food we used to love
This isn't the first time an old school menu has been shared online. Last year the menu from Berala Public School in Sydney's west was posted on Facebook group Old Shops Australia. It too was a far cry from what students nowadays enjoy with everything from devon sandwiches and Sao biscuits with vegemite to Aussie favourite finger buns.
Kevin Hayes, who was the original person to post the photo agreed it was certainly a change from what he remembered at school.
"Wow, most of those items would not be allowed to be sold or even consumed in school these days," he wrote.
Do you remember purchasing food from the school canteen? What was your favourite treat?