Nana had beautiful hands and was the only female member of our family to have long nails! She had a mind-boggling collection of manicuring implements, nail polishes (only in shades of red and only Revlon, thank you) and hand lotions, all which kept me entertained for ages. We definitely did not have anything like that at our place!
My grandmother had a regal bearing. She always walked tall and never slouched even when she was tired. She had beautifully fine skin, dark brown hair and brown eyes. Nana had a good sense of humour, but was very much a product of her time – quite strict. If we ever went into the city, it was always gloves, a hat and a handbag, and as I became a '60s kid, it was painful. Nan always said, "It just doesn't do you know".
She didn't cope well with the freer attitudes of the swinging '60s, however, she did like some of the music like the Beatles, Cliff Richard and the Seekers. Sexual liberation was something that "one does not talk about" and she would blush furiously at things that cropped up on TV and the movies.
The introduction of decimal currency just about nearly did her in; thank heavens she never got to see the change from imperial measurement to metric, she would not have coped at all.
As Brunswick was undergoing a metamorphosis, Nan was going broke. One by one, the bank of shops in Melville Road closed as the Greek and Italian communities thrived and multiplied. After a family consultation between Mum and Dad, and Mum's two brothers, Brian and Barry, the family chipped in and bought a caravan for Nana to live in, dutifully installing it in our backyard. At, I guess, aged about 11, I thought this a great deal as Nan was now 'on tap'; no more creepy shop and endless driving for Dad!
Every Sunday morning I'd be out there in my dressing gown and slippers, tapping on the door but "not before 8 o'clock" Mum always urged.
The caravan was kitted out in Nan's world; homey for her, familiar to me and completely alien to Mum, Dad and Clive. There was the old cabbage roses bedspread from the shop bedroom. She still had her cherry-coloured chenille dressing gown and burgundy quilted slippers.The teapot with her hand-knitted cosy. That goddamned alarm clock. Nan's new metal home still smelt like her old bathroom — velvet soap and Oil of Ulan … and that was a lovely comforting thing.
We had fun in winter as the caravan windows always fogged up after the kettle boiled. It was like being in a world of our own where no one could see us in our little fragrant cloud. We enjoyed the same ever-hard butter, albeit from a tiny fridge, and wholemeal bread that still had to be sliced. Then out with the Scrabble board. Nan loved Scrabble and it's probably a long overdue thank you I have to give her for my prodigious use of a dictionary, coupled with the endless love of reading and writing.
Nan's caravan was chocked up on bricks not far away from my bedroom window. As Clive and I had to be in bed "before Coronation Street and our adult shows" as Mum used to say, Nan would fortuitously forget something and traipse out to the van to get it, then sneak up to my bedroom window. A furtive tap tap, and bingo – one Agatha Christie book and a torch! She probably went back inside brandishing an emery board or some such thing.
If Mum and Dad ever knew, they never let on bless 'em, but A Cat Among the Pigeons awakened a life-long love of mystery stories, and the bliss of laying in bed at night reading a good book without someone yelling "turn the bloody light off — Now!".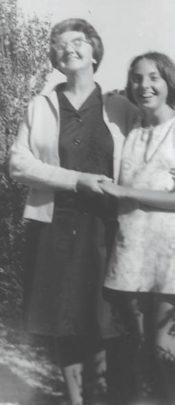 I have many memories of the 'girls days' Mum used to have, particularly Melbourne Cup Day. I'd be out most of the day with my brother, Clive, and friends, and would come home on my bike up the concrete driveway to discover Mum and her friends 'the Grandview Road girls' and Nana all burnt as toast sitting around outside listening to the transistor radio with a stack of empty beer bottles on the ground. The Bottle-O still used to come then, lucky for Dad!
Cup Day was, well, full on at our place! Mum used to rope me in to help make 'nibblies' — lots of cheese squares and sliced gherkins speared on toothpicks stuck into a pineapple. As well as sandwiches cut into triangles with shredded lettuce drizzled over the top. A tray of sausage rolls, fresh out of the oven, had to be surrounded by parsley before I was allowed out the back door to play 'waitress'.
Nan loved Cup Day and still utilised her phone-bookie from the shop days. All the girls would be at her for tips and best wagers. "C'mon Beau, who do you fancy in the fifth?" The phone would be tied up for ages, much to Dad's chagrin.
The night before the 1963 Melbourne Cup, Nan had a dream and fully believing that "this was an omen", dutifully followed up the next day with the outrageous bet of "ten pounds on the nose for a straight win" on a jockey with 'double initials' riding a horse with 'a double name'. She had no idea what this all meant until Dad was summoned to go and buy the paper. Mum was aghast, shocked at such 'un-Beau like behaviour'.
The jockey turned out to be Jim Johnson riding a horse called Gattum Gattum and when it flew past the winner's post, Nan shouted everyone to as many drinks as Dad could carry home from the pub! I don't recall how much she won, but it was an awful lot for just one horse race. Clive and I scored a 10 shilling note each and all the grown-ups got fearfully drunk, eventually dancing around the backyard in a mess of arms and legs. Phew, what a day that was!
Did your grandparents ever live with you (or you with them)?
Keen to share your thoughts with other 60-pluses? You can sign up as a contributor and submit your stories to Starts at 60. While you're at it, why not join the Starts at 60 Bloggers Club on Facebook here to talk to other writers in the Starts at 60 community and learn more about how to write for Starts at 60. Community blogs published on the website go into the draw for some great weekly prizes.