I thought about this recently when I had an infected ingrown toenail. It was really hurting on a bushwalk, especially when I was walking down hills. I couldn't cut it because it was so swollen, red and painful. I was thinking about a trip to the doctor or podiatrist when I remembered the bleach treatment.
I made some and swabbed my toe a couple of times a day for two days. All the redness, swelling and pain disappeared and I was able to cut the nail, which fixed the problem. I was telling my bushwalking friends about my home fix and they were very interested.
One Sunday afternoon, many years ago, my son who had moved out of home and was living with friends in a share house arrived with huge red swollen infected earlobes. He had been using stretches to enlarge the holes in his earlobes. They had become infected. I immediately wanted to take him to the hospital or doctor and if it hadn't been Sunday I would have. I didn't like the idea of a long wait at the hospital because the GP clinic was closed. I bathed them with the diluted bleach solution. It worked and his ears healed well. Eventually, he decided he didn't like the huge holes in his ears anymore and he went to a plastic surgeon and got them repaired back to normal.
You do need to be very careful using bleach. I keep it well away from children and don't use anywhere near my eyes. It can irritate mucous membranes, skin and airways. Always only use in well-ventilated areas and mix it with cold water. Hot water decomposes the sodium hypochlorite and stops it being effective. Bleach can corrode metal and damage painted surfaces.
Sheppie did go on to have two litters of pups. The first ones were purebred but the second lot weren't.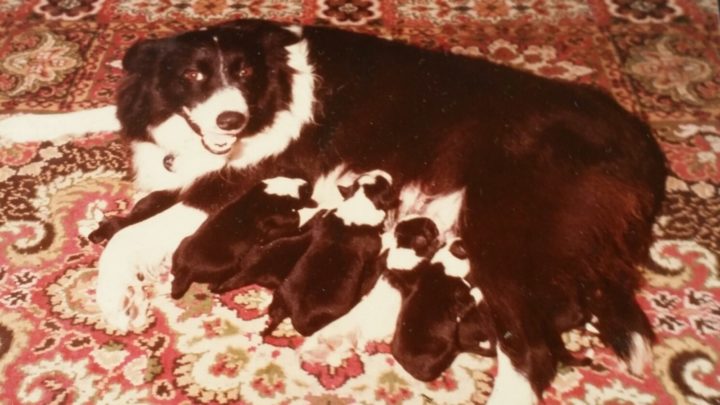 She wasn't a great mother. She was a 'good time girl'. Sometimes I had to go and pull her out of the sea to come home to feed the pups. I had to wash the sand off her nipples first. She had a great life. She loved the bush and always came camping with us. If she hadn't been gored by that wild boar's tusk I would never have been able to treat my ingrown toenail problem.
Disclaimer: The information in this blog is not intended to be a substitute for professional medical advice, diagnosis or treatment. Always seek the advice of your doctor or other health provider with any questions you may have regarding a medical condition. Never use bleach anywhere near your eyes. Keep it away from children. Do not drink it.