Stravinsky's Lunch is Modjeska's biography of Stella Bowen and Grace Cossington Smith, painter of my postcard pic. Both were born a year apart, in the antipodean Autumns of 1893 and 1892 respectively. One left Australia on the eve of World War I and lived the rest of her life in Europe; the other lived for decades in the same house on the outskirts of Sydney. For one — Paris and famous names; for the other, the quiet life of a provincial suburb. One went off to find a life of art; the art of the other grew out of the life she lived. The bohemian and the spinster.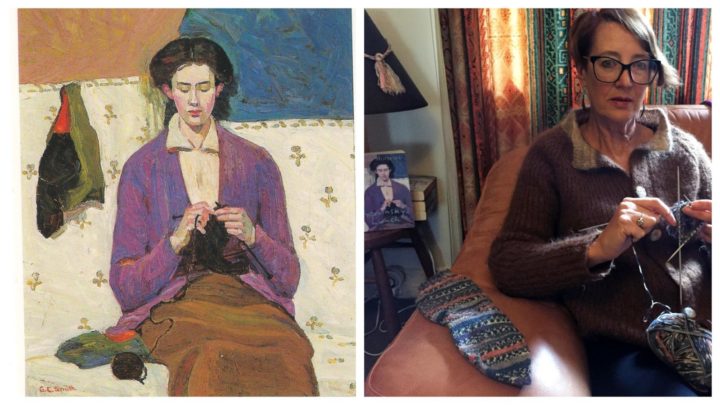 That's the most recent 'snap' but there are many others, from the stupidly simple like my husband and I buying each other the same cards for each other on our anniversary; or my daughter and I trying to phone each other and getting the engaged signal because, ha ha, we were trying to call each other at the same time, to the truly astonishing …
It had been a hard year at work and my 10days' leave was very much anticipated. We'd been experiencing a lot of IT problems with both computers and servers, and our IT manager, Paul, who worked in a different location to me, was finally taking some much needed annual leave around the same time.
There were my husband and I standing in a lookout some 1,000m above sea level off the Alpine Way in the Kosciuszko National Park in New South Wales, when, bugger me, a familiar voice yells "Deb?"
Yep. What are the chances!
Another staggering 'snap' happened at Gunnamatta Beach on the Mornington Peninsula in Victoria. A group of us decided to head down there one hot day and settled in to watch the guys strut their stuff. We girls smoothed out a patch of sand and laid our rug down, setting out picnic fare and drinks. Not long after I noticed the small gold ring I've worn for years on my little finger was missing!
We searched and searched, eventually giving up as the sun was going down and it was time for the long drive home. I was very upset.
Some two weeks later the guys heard a good surf report about Gunnamatta so we re-visited, once again smoothing out sand for our rug, and yep, you guessed it, the small ring nudged itself onto the tip of my index finger. Unbelievable, but true!
I know a few people who experience this phenomenon so perhaps it's not as rare as purported.
In yet another 'snap' moment, my daughter Michaela and new partner Matt were hosting his parents for lunch when a local online community broadcast was posted about a lost dog, Rufus. Just before Matt's parents, Peter and Dale, arrived, Michaela spotted Rufus running around inside their property so it was all hands on deck to contain him. Matt rang the phone number on the broadcast message giving details of where the dog was and could the owners please come and collect it.
His parents arrived to find no lunch cooked and everyone running around outside. Then a car pulled into the long driveway, and out jumped the dog's owner. He didn't give another look at Rufus after spotting Matt: "Matt? Matty? Mate? Matt?" Yes, they were old school friends from years back who had lost contact!
Added bonus? Dog owner's Mum decided to join in the hunt/retrieval and headed up the long driveway to find not only her son and mate embracing, but declaring when spotting Matt's parents: "Dale, is that you?" Yep, they served together in the boys' school tuckshop more than 30 years ago! *Snap*
Lunch was finally served at four o'clock.
Have you had some 'snap' moments? We'd love to hear what they were.
Do you have a story to share with Starts at 60? We want to publish it. Sign up as a contributor and submit your stories to Starts at 60. Stories written by over-60s go into the draw for some great weekly prizes. You can also join the Starts at 60 Bloggers Club on Facebook to talk to other writers in the Starts at 60 community and learn more about how to write for Starts at 60.