Don't try to deny it! Most of us have this drawer, rely on this drawer, use this drawer daily, but still never organise it. Why? Because there's always something new to add.
Where's the extra chalk for the kid's blackboard? In the bottom drawer in the kitchen.
Please suffix each item here with 'Where's the extra/new …'. Candles, batteries, photos nobody wanted, small scissors, double adaptors, tape measure, cotton, sticky tape, light globes (no, not the energy burning ones, the ones that save the planet), fridge magnets, paper clips, bulldog clips, glue, colouring pencils, small/big tacks, pins, that thing that threads the needle for sewing, stray buttons, those old Christmas gift tags, a pencil, eraser and BluTac (oh please, let there always be BluTac), balloons etc. etc.
The universal, undeniable, truth is if it's not in the bottom drawer in the kitchen, then it's likely we don't have it.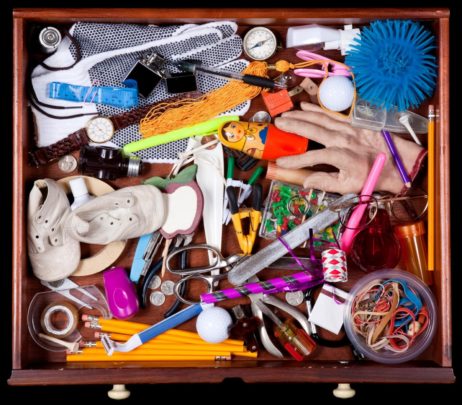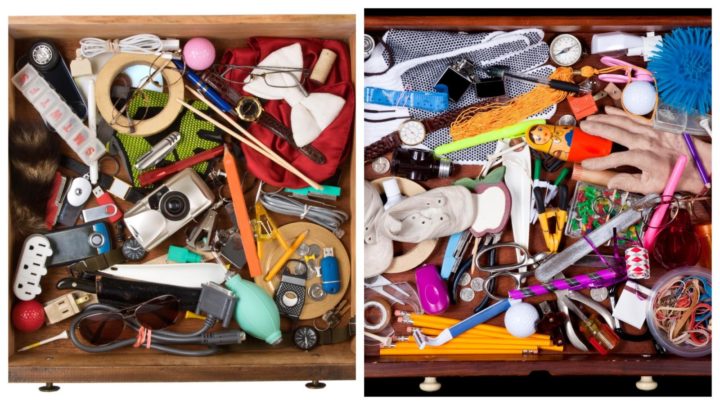 If you're anything like my family and friends, there'll always be an addition for any subtraction. As the kids grow, stuff replaces stuff and the drawer contents continue to grow.
Rechargers, USBs, ports, head sets, noise eliminators, headphones, ear plugs, cables, old phone cases, old mobiles, remotes, expired bus/train/computer café cards ('cause there might be a few dollars left on it, huh?), the musical festival wrist band ('cause if I leave it in my room it'll get lost), that one hardcopy photo (says the 16-year-old granddaughter) "when I looked skinny". The list goes on …
If it's vague, non-descript, known to have entered the house at some point, been referred to 10 years ago, enjoyed by that 'wha wha' cousin and/or was the centre of a two-hour debate regarding aqua or blue colour swatches; it's all in that drawer.
Now, as a Mum and Grandma, you'll find my 'bottom drawer in the kitchen' the place to find everything, but maybe spread to two drawers because the contents seem to follow me. There's five decades of stuff down there. I promise I'll tidy it up one day.
Do you have a junk drawer of stuff in your house? What do you keep in it?
Keen to share your thoughts with other 60-pluses? You can sign up as a contributor and submit your stories to Starts at 60. While you're at it, why not join the Starts at 60 Bloggers Club on Facebook here to talk to other writers in the Starts at 60 community and learn more about how to write for Starts at 60. Community blogs published on the website go into the draw for some great weekly prizes.