I was again becoming uneasy, and thought I sighted something large and dark just out of the range of my facemask — damn things are like wearing blinkers sometimes, you have bugger all in the way of peripheral vision!
Cue the JAWS music … Da da. Daaaa da. Daaaaaaa da … There was something coming into view. Large. And black. And closing in quickly, now only about 3 metres away. I turned, and shrieking a cloud of bubbles, snapped the camera as I bolted to the surface, breaking into the fastest freestyle I'd done since the inter-school comps back in the 1960s!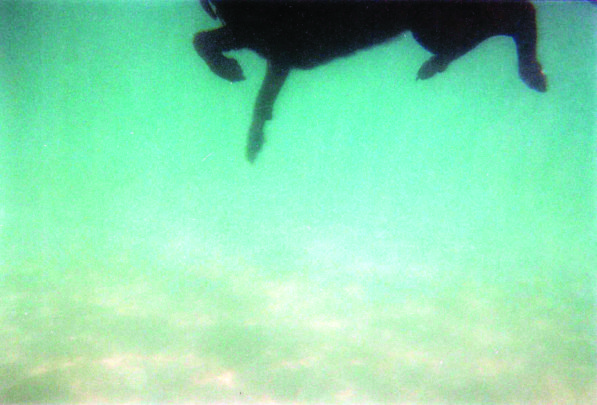 Staggering, literally (ever tried to rush wearing flippers?), onto the beach, I wheeled around to see … What? A happy black labrador dog-paddling into shore with a yellow tennis ball in its mouth! Good God, I gasped out loud as I sank onto the sand, breaking into hysterical laughter/tears as I forestalled an imminent heart attack.
That was the last time I went snorkelling.
These days, among other things like fulfilling casual freelance writing contracts and of course, writing posts for Starts at 60, I've taken up tai chi classes and have booked in for piano lessons starting next month. I am also tutoring Knitting for Beginners at the U3A, which may not be as heart pumping as swimming dogs, but is infinitely more pleasurable. I just love seeing the 'light globe' come on when someone is learning something new and it suddenly clicks!
I had a great group last year who enjoyed a cuppa each Friday in the month of May, learning to kick start an enjoyable knitting journey as the weather grows cooler. In only five lessons, they learnt how to start, the basic stitches, how to read a printed pattern, how to fix mistakes, how to get the work off the needles, and more. We clowned around with making samplers of cables, patterns like Feather and Fan, and Bobbles. Best of all, how to make themselves an easy lacy scarf boasting big wow factor, just in time for the wintry weather!
I'm now preparing for this year's group. I'm having great fun producing posters like: "This weekend's forecast is mostly knitting with a chance of wine" and "Carpe Knit: Seize the Yarn". I'm also knitting up samplers of some simple, fun patterns that will create anything from mittens to throw rugs!
Knitting has been well-proven to be a soothing stress buster that gives you a bonus, handcrafted, original item at the end. We've lots of them around our house — throw rugs for each of us, fingerless gloves for keyboard work on cold days, team colour footy scarves and beanies. I even knitted up a couple of string bags to stash in my handbag for those times I inevitably forget to take bags to the supermarket!
Cooking, knitting, reading, learning, beach bumming — retirement has its benefits, and even though I did enjoy these while working, it was in a far more compressed, or encapsulated, way. These days I have to remind myself that I have time to get over the 'deadline' syndrome, the self-pressure, the inherent need to achieve every day. I'm hoping the tai chi classes will have some benefit here.
"If you want something done, give it to a busy person to do" and I have always been that busy person. That adage has been with most of my working life, but needs modifying methinks. How about: "If you want something done, give it to someone else because I have some driftwood to find"? Hmm … No bad.
Are you new to retirement? How are you finding the transition? If you've been retired for some time, could you relate to this story?
Do you have a story to share with Starts at 60? We want to publish it. Sign up as a contributor and submit your stories to Starts at 60. Stories written by over-60s go into the draw for some great weekly prizes. You can also join the Starts at 60 Bloggers Club on Facebook to talk to other writers in the Starts at 60 community and learn more about how to write for Starts at 60.