Mike Tindall is the latest royal to join the world of Instagram, sharing a series of photos of himself with his wife Zara, playing golf and even posing with other famous faces within his first few days. Unlike some of his relatives, he's kept his profile very down-to-earth, showing everyday hobbies and outings rather than solely royal-based ones.
The Duke and Duchess of Sussex
After a very private birth and controversially skipping the traditional photo on the hospital steps, Prince Harry and his wife Meghan decided to use Instagram to share the first photos of their baby boy, Archie. The photo was liked over two and a half million times and was a reminder that the modern royals would be doing things on their own terms from then on.
Edoardo Mapelli Mozzi
Sarah Ferguson and Prince Andrew's oldest daughter, Princess Beatrice, is one of the few royals that is yet to set up an Instagram account for herself. However, this definitely doesn't stop her from sharing important information about her life with the public through social media.
Instead of using her own social media, Beatrice's new fiancé Edoardo Mapelli Mozzi announced their engagement in late September by sharing a series of photos of the two in a sweet embrace with the romantic caption: "You will never be alone my love, my heart is your home. Hand in hand, today, tomorrow and forever."
The Duke and Duchess of Cambridge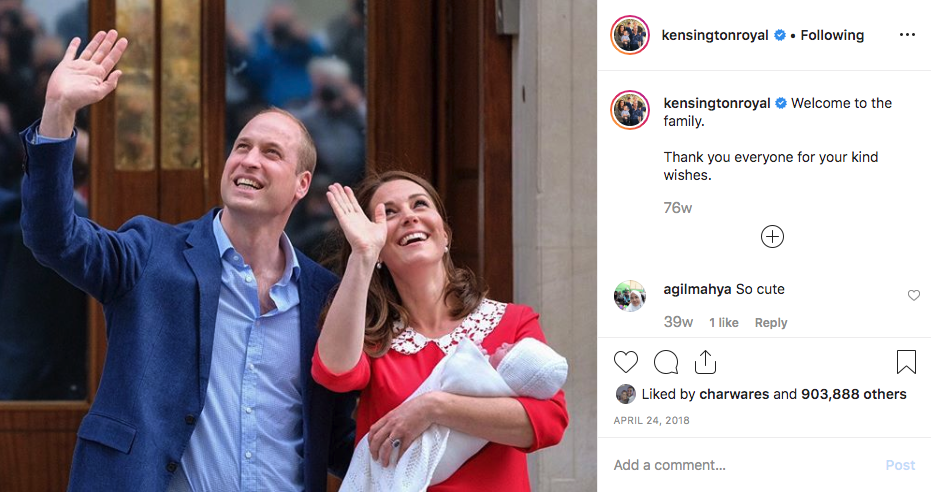 While this adored royal couple also enjoy their privacy, Prince William and his wife Catherine were more than happy to share their newborn baby Prince Louis with the world via Instagram. The pair carried on the tradition of having their photos snapped on the hospital stairs in a moment that reflected the same photos taken of William's mother, Princess Diana, when he himself was a newborn baby.
Princess Eugenie
Princess Eugenie definitely has one of the more entertaining Instagram pages of all the royals with plenty of adorable throwback photos of herself and her sister Beatrice as little girls, as well as sweet posts about her parents and of course her new husband, Jack Brooksbank. However, it was the announcement of her scoliosis-related scar on her back that she proudly showed off in her wedding dress which really struck a chord with the public and gave everyone an insight into the struggle the young royal had previously gone through.
Sarah Ferguson
While technically not considered a royal anymore, Sarah the Duchess of York was allowed to keep her title after splitting from her then-husband Prince Andrew. However, despite the very public and tumultuous divorce, the couple are clearly still on good terms with Sarah posting this sweet tribute to the "best looking" royal in her opinion – her ex-husband Andrew.
Kensington Palace and the royal family
While the royals using Instagram is a great idea for many reasons, by far the best part about it all has to be the stunning family portraits that are posted online for the world to fawn over. With more children being added to the group every year, the growing family clearly loves to remember the moment by snapping a beautiful, professional family photo on every occasion including weddings, christenings and holiday gatherings.