The Danish royal family shared a series of photos online from the evening, writing on Facebook: "This evening, the Crown Prince couple were hosts at a dinner in the Knights Hall at Christiansborg Castle. The dinner was held on the occasion of the international C40 climate summit, in which Copenhagen is currently visited by mayors, business leaders and climate experts from all over the world."
And it comes just days after Mary put on a stylish display as she attended an event in Paris, opting for a beautiful navy frock, which complimented her beautifully, thanks to a delicate row of small buttons up the front centre of the dress and a structured cut-out neckline. Mary's dress also featured a standout white pleated panel at the front and white cuff detailing on the sleeves.
The 47-year-old princess paired the stylish dress with a classic pair of navy court shoes and simple jewellery, while she wore her dark locks down over her shoulders in soft waves.
The glamorous look wasn't Mary's only fashion moment that day though, as she had a quick change on Monday evening before stepping out with Frederik for a sophisticated evening event.
With her hair pulled back into a glamorous up-do, Princess Mary oozed elegance as she walked arm in arm with the heir to the Danish throne, wearing a gorgeous black and white cocktail dress, covered in tiny white dots.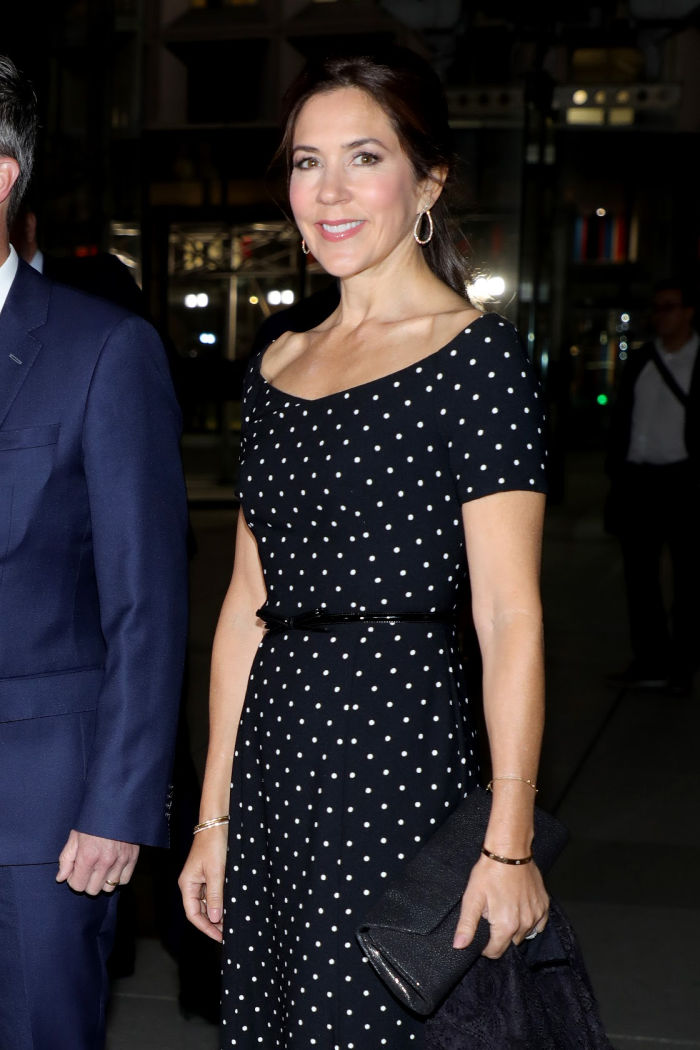 The dress showed off Mary's figure with a flattering boat neckline which dipped slightly into a V in the centre of her chest, and fell to her shins, giving the look a more playful edge. Mary paired the dress with a small black clutch bag, which appeared to have dramatic lace detailing, along with a pair of diamond earrings and a pair of black stiletto heels.
Meanwhile, it comes just days after Mary was made regent by Queen Margrethe which means she can now perform duties as head of state when the 79-year-old monarch is otherwise engaged.
An official statement was released on the Danish Royal social media accounts last week which said "from now on, [Mary will] be able to attend to The Queen's duties as head of state when The Queen is prevented from doing so, for example during a stay abroad."
It continued: "Under The State Council, the Crown Princess, in the presence of the Queen, His Royal Majesty, the Crown Prince and the Government, signed the necessary declaration to comply with the constitution.
"Today, The Queen's duties can be handled by The Crown Prince as regent or by Their Royal Highnesses Prince Joachim and Princess Benedikte as regents," the Danish Royal House said.