The Danish royal family shared several images of Mary's latest outing on their official social media accounts, writing alongside the snaps: "As a patron, Dauphin Kronprinsessen [crown princess] opened today the festival, where this season celebrates the 20th anniversary. This year's theme is therefore "at through: with time in the centre", and at today's opening, kronprinsessen met many of the gardeners and volunteers who have worked to make the festival ready."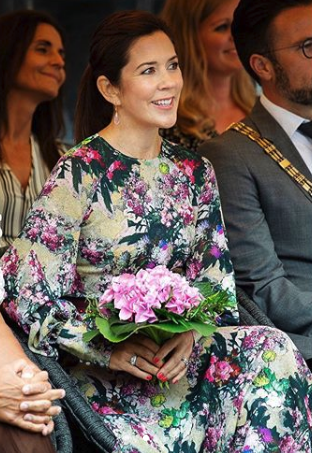 Mary's outing comes one week after she was pictured out alongside her husband Crown Prince Frederik II as they enjoyed a romantic sunset whilst on a cruise holiday with their young children.
Posing for a sweet snap together, the royal couple – who will one day become the Danish king and queen – wrapped their arms around each other, as they beamed at the camera from the deck of their royal yacht. Princess Mary, who is more often seen in stunning gowns, looked gorgeous as she went make-up free, embracing her natural beauty, with her long dark locks hanging loosely over her shoulders.
The Australian-born member of royalty kept her outfit casual for the occasion too, opting for a boho-style paisley patterned frock. The 47-year-old's off-duty look was perfectly complimented by her husband's attire as the heir to the Danish throne donned a patterned button-up shirt and opted not to shave as he made the most of his time off from conducting official duties.
Fans were quick to compliment the pair for the loving display, with one writing: "With a holiday beard and without makeup – This is how it should be on the summer holidays. A beautiful and healthy Crown Prince couple with obvious love for each other and the children. Family togetherness."
Another wrote: "The world's most beautiful crown prince couple." While a third said: "They are so gorgeous! Love them so much."
The Danish royals also shared a series of photos of the royal parents spending some time with their four children, Prince Christian, 13, Princess Isabella, 12, and eight-year-old twins Princess Josephine and Prince Vincent. One snap showed Mary standing alongside her two daughters, with all three wearing bold red caps and sports clothing.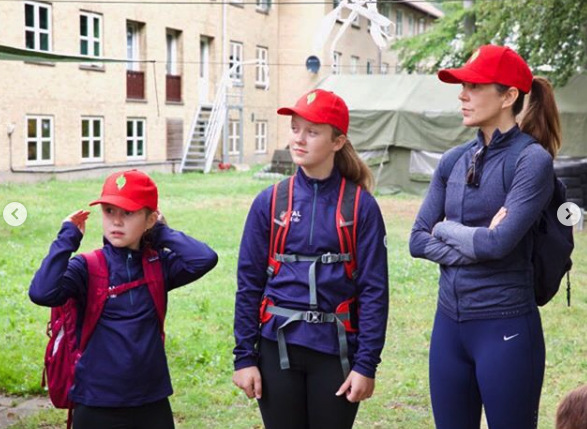 While another photograph showed Crown Prince Frederik with his face completely covered in camouflage paint as he carried out a demonstration for his sons – whose faces were also painted green – in Kongsore.
"Today's stop on our voyage with the King's Ship was in Kongsøre, where the Freemason Corps is located," a caption posted alongside the photos read. "This is where I took my education as a seed man, and today I had the pleasure of showing the whole family my former workplace.  It was a great experience to get out into the terrain with the family, find objects using maps, try the obstacles on the obstacle course and finally free play in the water.[sic]"