Changing the ensemble up for her latest two engagements, Mary teamed the elegant outfit this time with minimal accessories, nude pointed heels and a matching bag. While she wore her dark locks down in a wavy style and kept her make-up neutral.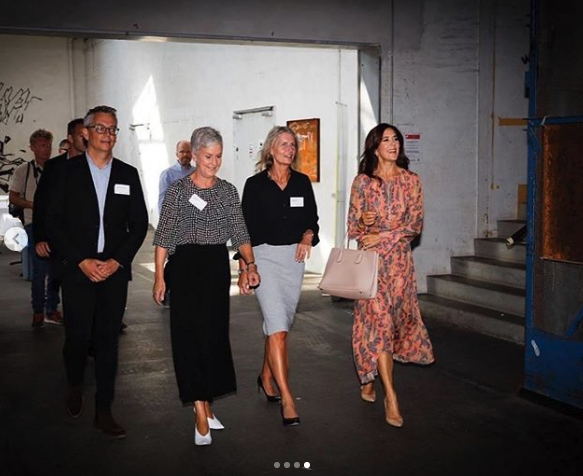 The crown princess, who married Danish Crown Prince Frederik in 2004, spoke to a crowd of people about loneliness and social exclusion at the first engagement for her charity. The Mary Foundation is close to the princess's heart and its three areas of focus are bullying, domestic violence and loneliness. Princess Mary then spent the afternoon with children in grades five and six and spoke about the importance of sustainability.
Fans of the princess were quick to comment on the beautiful pictures, with one writing: "Good purpose for supporting. The Crown Princess is proficient and empathetic. Another added: "Beautiful pics. The efforts of Her Royal Highness for the uplift of the country are commendable." While a third wrote: "Well done Crown Princess! It's a step in the right direction! Congratulations on your humanitarian efforts. God bless u always."
Meanwhile, Princess Mary's latest glamorous appearance comes one week after she stepped out in a stylish floral dress to open the Odense Blomsterfestival, a flower festival in Denmark earlier this month. The mother-of-four looked incredible in the floaty floral dress which featured a striking pattern that looked eye-catching without being too busy.
Fashion is a fickle game and history has taught us it's only a matter of time before what's old is new again. That appears to be the case for one of the most iconic looks from the 1960s – florals and gypsy sleeves – and we've got Mary to thank for its comeback.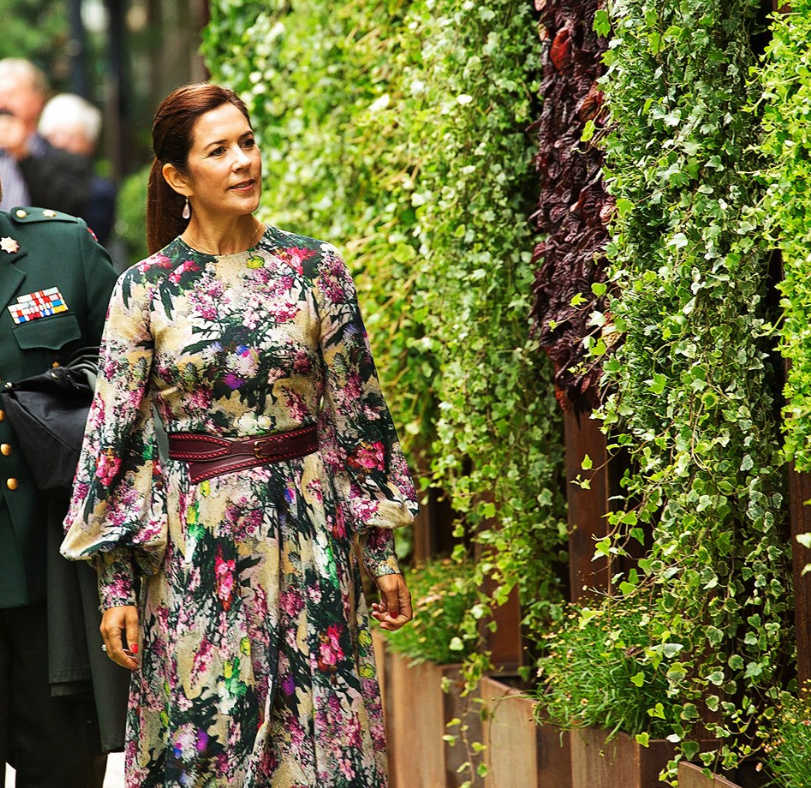 She paired the classic ensemble with a stylish brown belt, dangling earrings and wore her brunette locks up for something a little bit different. Mary was also handed a posy of pink flowers by a local child, which perfectly complimented her outfit.
The Danish royal family shared several images of Mary's latest outing on their official social media accounts, writing alongside the snaps: "As a patron, Dauphin Kronprinsessen [crown princess] opened today the festival, where this season celebrates the 20th anniversary. This year's theme is therefore "at through: with time in the centre", and at today's opening, kronprinsessen met many of the gardeners and volunteers who have worked to make the festival ready."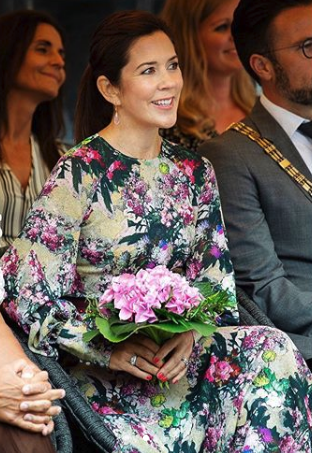 It also comes a few weeks after she was pictured out alongside her husband Crown Prince Frederik II as they enjoyed a romantic sunset whilst on a cruise holiday with their young children. Posing for a sweet snap together, the royal couple – who will one day become the Danish king and queen – wrapped their arms around each other, as they beamed at the camera from the deck of their royal yacht.
Princess Mary, who is more often seen in stunning gowns, looked gorgeous as she went make-up free, embracing her natural beauty, with her long dark locks hanging loosely over her shoulders. The Australian-born member of royalty kept her outfit casual for the occasion too, opting for a boho-style paisley patterned frock.
The 47-year-old's off-duty look was perfectly complimented by her husband's attire as the heir to the Danish throne donned a patterned button-up shirt and opted not to shave as he made the most of his time off from conducting official duties. Fans were quick to compliment the pair for the loving display, with one writing: "With a holiday beard and without makeup – This is how it should be on the summer holidays. A beautiful and healthy Crown Prince couple with obvious love for each other and the children. Family togetherness."