Wearing a full-length olive dress for the outing, Meghan looked smitten as she walked hand in hand with Prince Harry before sitting down with a group of people at the mosque and viewing the first known manuscript of the Qu'ran in Africa, drafted by Tuan Guru from memory, whilst he was imprisoned on Robben Island.
The day was set out to honour Heritage Day in South Africa, which according to the couple's official Instagram page, "celebrates the great diversity of cultures, beliefs and traditions that make up the rainbow nation".
Meanwhile the duchess showed off her natural beauty in another stand-out outfit at the end of day 2, choosing a long flowing striped dress designed by Melbourne-based Martin Grant that she previously wore while pregnant on a walkabout on Bondi Beach, soon after announcing her happy news in October 2018. Appearing to take inspiration from her sister-in-law Catherine's thrifty side, Meghan also recycled her blue dress the day before which she previously wore on a visit to Tonga.
Sharing a loving glance with her husband Harry, Meghan flashed a wide smile as the couple arrived at the High Commissioner's residence in Cape Town for a youth reception in the evening. Their son Archie, four months, remained with his nanny for the evening but he was at the forefront of both of their minds as they both opened up on their son throughout the day.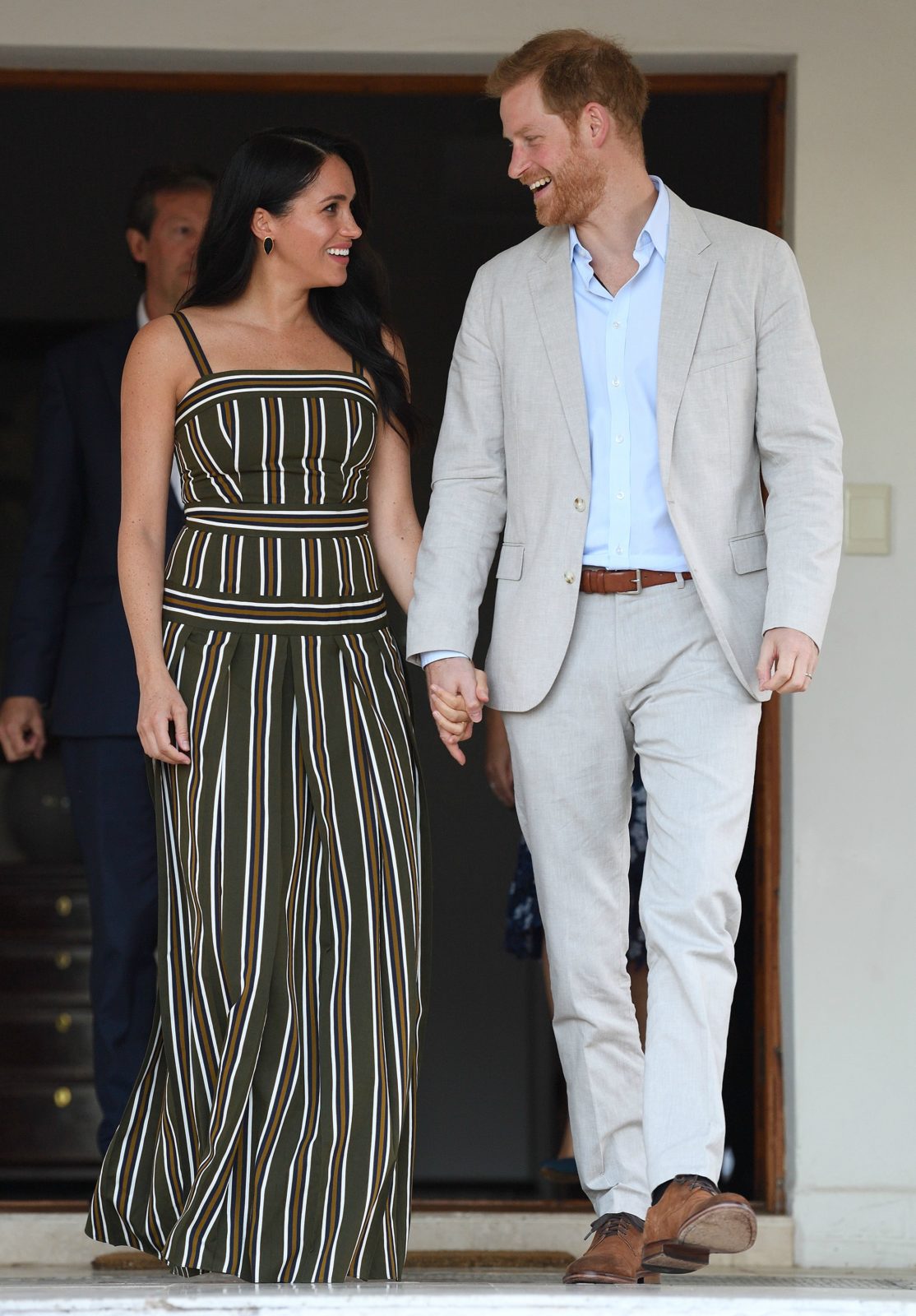 According to the Mail Online, an anonymous guest said Meghan told them of the flight over to Africa: "They said it was the longest flight they have taken with Archie. She slept with one eye open – but he was very good."
Elsewhere, retired school principal Shamiela Sanodien and her sister Nazli Edross-Fakier invited the couple for tea and, according to Vanity Fair, Meghan took the opportunity to speak further of baby Archie. "Meghan was so sweet, we spoke about her being on Suits; we told her we adored her in Suits and she was flattered," Edross-Fakier told the news outlet. "We talked about her being a new mum. She said it was very exciting and she said she's really enjoying it. The prince said that Archie was a good little boy and slept on Meghan's chest most of the time. It was wonderful having them for tea."
Royal fans have showered her with praise on Instagram for her natural beauty and beaming smile for everyone she's meeting in the country. One commented on social media: "She reminds me of Princess Diana. I see why Harry chose her as his mate," while another added: "She is seriously so gorgeous."
Meanwhile one person wrote: "Loving how they get right in with the locals… Love, Love, Love," while one added: "Now this is a princess!" and one wrote: "How beautiful, colourful and so many happy smiles."