And there was a surprise for royal onlookers when Meghan joined dancers in the Nyanga township and delighted local families when she began dancing with them, showing off some impressive moves. Harry looked delighted as he stood back and watched his wife get involved with the celebrations.
Sharing a series of photos of the morning visits on Instagram, the couple's official social media page revealed their tour will be following in Harry's mum Princess Diana's footsteps by focusing on "community, grassroots leadership, women's and girls' rights, mental health, HIV/AIDS and the environment".
Meghan moved the crowd when she gave a speech on behalf of the couple in Nyanga later on too, telling the audience they were "vital" and "extraordinary".
"And just on one personal note, may I just say that while I am here with my husband as a member of the royal family, I want you to know that for me I am here with you as a mother, as a wife, as a woman, as a woman of colour and as your sister," she added. "I am here with you and I am here for you and I thank you so much for showing my husband and I the spirit of Ubuntu and I look forward to our time over the next few days together."
Meanwhile Meghan changed things up for an afternoon packed full of events as she kept the statement shoes on but swapped the dress for a button-down blue denim-look dress which fell below her knees and clinched in at the waist with a bow.
Wearing her hair loose and wavy on this occasion, Meghan opted for another natural look and once again flashed laughs and smiles to the crowd as she visited The District Six Museum and the Homecoming Centre, who are re-building their local community in Cape Town. Harry also had a quick change and opted for a light beige suit for later in the day, after choosing dark trousers and a smart white shirt in the morning.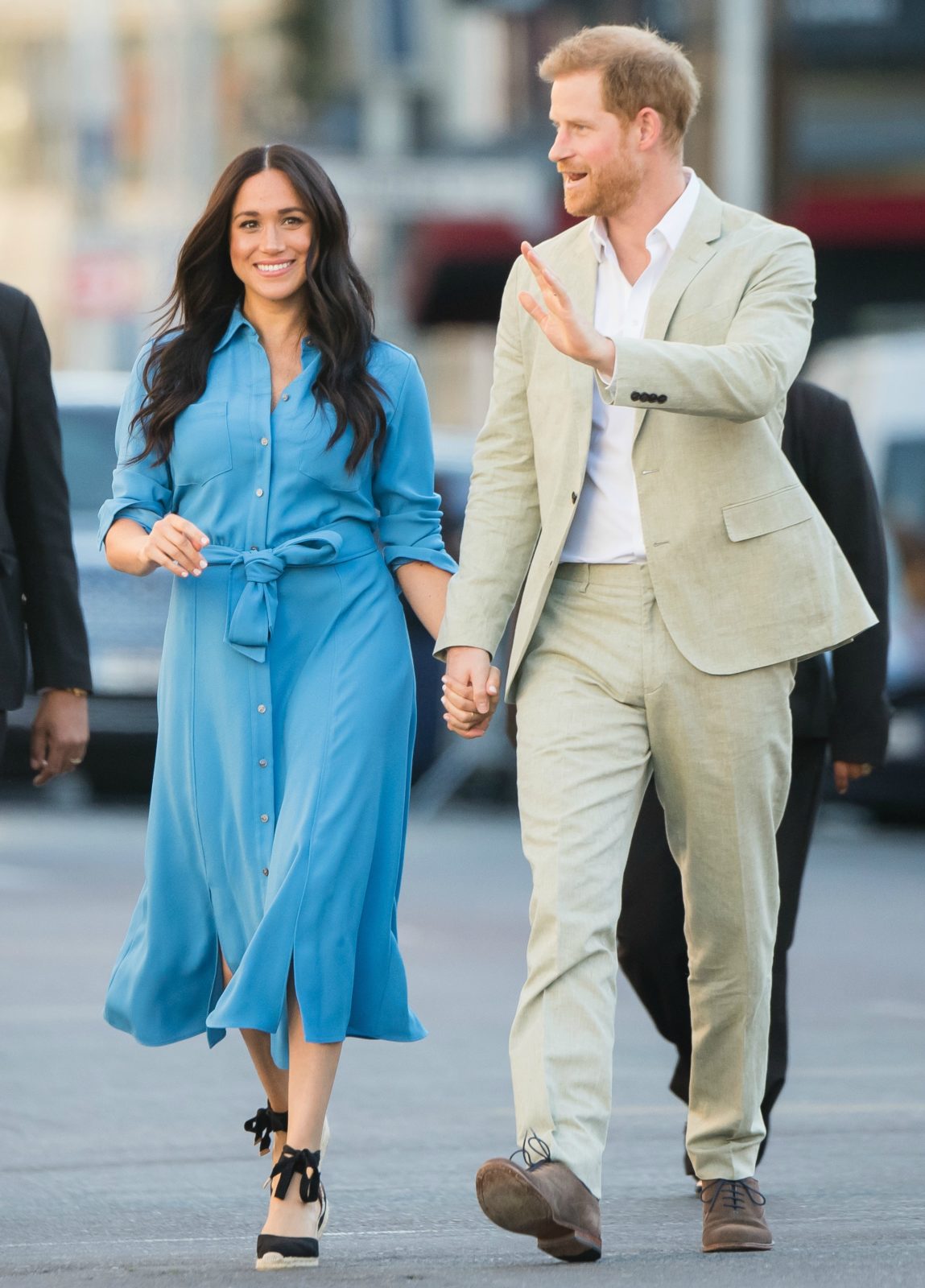 "The Duke and Duchess had a first hand look and understanding of how much of this diverse community was destroyed, with people subjected to forced relocation during the apartheid era," their Instagram page explained online.
"At the Homecoming centre The Duke and Duchess were treated to food cooked by local women that showcased the wonderful variety of recipes – and the importance of cooking to bring communities together – a topic The Duchess feels strongly about (just like Together, the cookbook from the women of The Hubb Community Kitchen which The Duchess supported this time last year)."
Royal fans were delighted to see the couple out and about again after Meghan's time away from the spotlight following the birth of her first son Archie. Commenting on the series of posts online, one person wrote: "Such a beautiful couple ! Today has been so amazing & the fact that we have over a week left of engagements is everything," while another added: "They look genuinely happy. Good for them!"
Meanwhile one wrote: "She looks so happy," and another added: "So wonderful that you are there."