The photograph was taken shortly before the siblings left for their first day and has been praised by royalists from around the world. One person on Instagram wrote: "She's the Queen's mini-me!"
Another person said: "Such an adorable picture!!! Thank you William and Catherine for sharing this wonderful day with us," while a third added: "Oh my goodness! Would you look at the two of them! Proud big brother and little Princess Charlotte with that smart smile. I love the photo!"
The official photograph from Catherine and William came hours after Charlotte was seen walking into the private school near the family's home. She was spotted holding hands with her parents, dressed in her crisp school uniform. Charlotte smiled and waved and shyly hid behind her mother in the pictures that marked the big milestone for the four-year-old.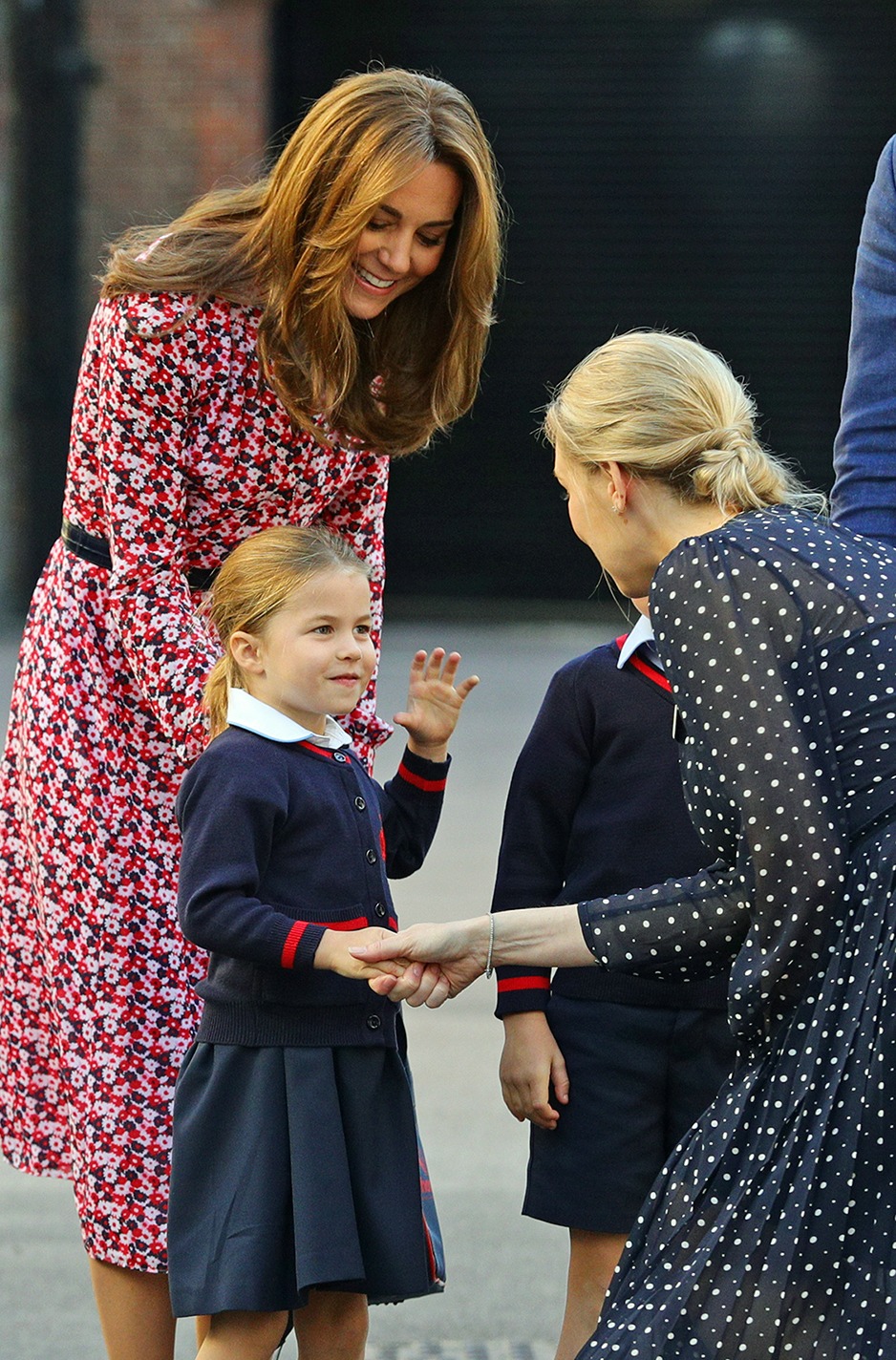 It was also a big day for Catherine. She was unable to attend Prince George's first day of school because she was suffering morning sickness with Prince Louis, but was every inch the proud mother as she walked her two eldest children into the school on Thursday.
Thomas' Battersea is a co-ed private school located in South London. The school is recognised for providing students with well-rounded education and introduces all children to subjects including art, ballet, drama, music and physical education from a young age. Charlotte will be known as Charlotte Cambridge by her peers and teachers at the school.
According to the school's website, Thomas' Battersea is a busy, thriving, purposeful school and educates 560 boys and girls between the ages of four and 13. The most important school rule is to 'Be Kind'. The children are educated with the morals of  'Enjoyment, Learning and Achievement', informing a child's journey through the school.
Video shared on the Kensginton Palace Twitter page also saw Catherine and Prince William walking their two children through the school and greeting the Head of the lower school, Helen Haslem. The Duchess of Cambridge could be heard asking the teacher if she had a good summer, before Charlotte and George shook their teacher's hand.
Prince William also confirmed that his daughter was "very excited" to be starting school. Another photo shared on the official Kensington Royal page showed the family holding hands as they walked through the school.
"Princess Charlotte arrives for her first day of school at Thomas's Battersea, joining her older brother Prince George," the caption read.