Speaking before the memorial service, Morrison also added: "It's a pleasure for Jenny and I to be here to pay tribute to Tim. Tim was as big as Australia and will forever be remember as that. A great man, a dear friend and we loved him dearly."
Bill Baxter, Mr Fischer's best man, has also paid tribute to his close friend: "It's often said that in politics you have hundreds of acquaintances but few true friends. That didn't apply to Tim Fischer. He had hundreds of thousands of friends and he was a true friend of mine for over 50 years."
He continued: "He understood real people there wasn't a person he walked past that he didn't want to find out about and equally there wasn't a single person he met who didn't instantly fall in love with him. Our lives were changed for the better because we knew Tim Fischer."
Ross Jackson, Fischer's good friend, also paid tribute to the late politician and spoke of their common interest in trains: "Six months ago Tim contacted me about what he expected from his funeral train, I can assure you it's nothing he expected." Jackson also revealed he first met the former deputy prime minister at a basketball match when he was just 12 years old, with the pair bonding – and remaining friends ever since – due to their shared passion.
Meanwhile, former Prime Minister of Australia John Howard also spoke of the late pollie outside the memorial service: "He was a great colleague… we of course formed a close personal and political bond. He was wonderful and very close deputy prime minister and I'm very grateful for what he did to cement the coalitions arrangement. I mourn his passing and give my love to Judy, Harrison and Dominic."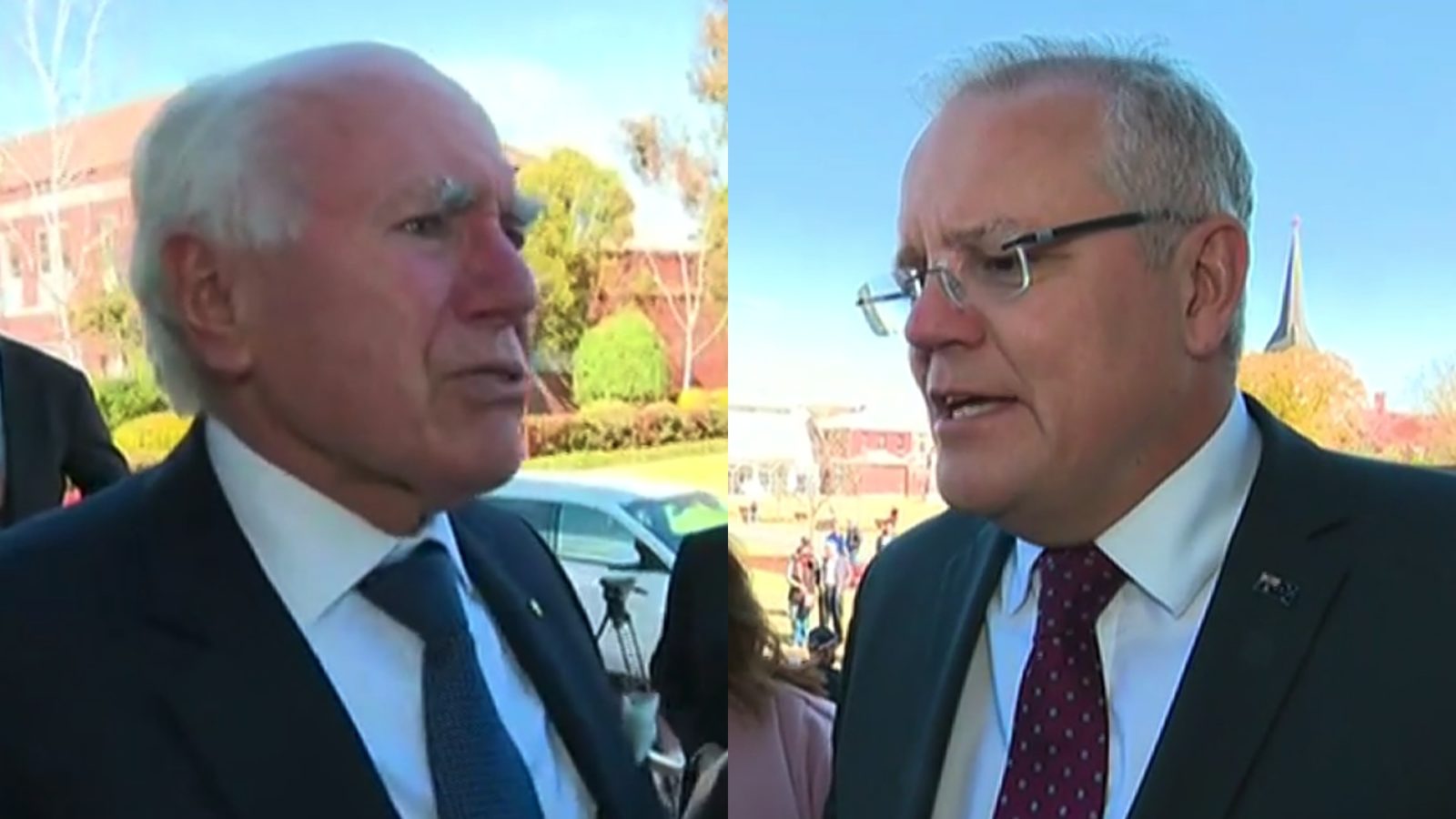 Others took the opportunity to pay tribute to Fischer in the lead up to the memorial service with opposition leader Anthony Albanese posting a short message on social media. "Headed to Albury today to farewell Tim Fischer, an honourable gentleman and passionate Australian #Respect," he wrote on Twitter.
MP Darren Chester added: "Will be an honour to attend today's State Funeral in Albury for Tim Fischer. Conscripted in 1966, Tim trained as an officer served in Vietnam as a second Lieutenant. Wounded in action, Tim went on to an extraordinary career in politics public life. Thank you for your service."
Earlier today, a train, which departed from The Rock in New South Wales, carried Fischer and his casket to Albury railway station ahead of his state funeral, where hundreds of wellwishers crowded to say their final goodbyes as trains was one of the former deputy prime minister's great passions. A plaque with the words "Vale Tim Fischer: 1946 – 2019" was fixed to the front carriage, while the coffin was adorned with an Australian flag and an Akubra hat – Fischer often travelled the country in his trademark Akubra hat.
Fischer died at the Albury-Wodonga Cancer Centre last week following a decade-long battle with cancer. At the time tributes poured in from well-known Aussie figures and fans, with Bill Shorten leading the charge and writing on Twitter: "Vale Tim Fischer. Doting dad & parent-carer, General Monash advocate, Veteran, Public Servant, Good Australian."
Meanwhile, PM Scott Morrison shared a photo alongside his own tribute, writing: "Tim Fischer was a dear friend. Jenny and I are deeply saddened by Tim's passing. Tim Fischer was a big Australian in every sense of the word. Big in stature, big in his belief, big in his passion, big in his vision for what Australians could achieve… And big in his view of Australia's place in the world. As a result, Tim Fischer will forever cast a big shadow on our nation. Jenny and my thoughts and those of our entire nation are with Tim's wife Judy, their sons Harrison and Dominic and his extended family and many friends."
The 73-year-old, who has faced a tough fight with acute leukaemia for 10 years, revealed just months ago that he had turned to chemotherapy to fight the disease. Meanwhile, late last year Fischer appeared on ABC's Australian Story where he admitted his prognosis was "not good", with hope and prayer keeping him strong throughout the difficult time.
"It's as it is. At three score plus 12, you take the cards that you're dealt with and hope and pray," he told the program back in November. It's not the ex-politician's first cancer fight as he was previously diagnosed with bladder cancer, prostate cancer and two melanomas – however this was the most serious.
The devastating news back then forced both Tim and his wife Judy to focus on the possibility of him not being around in the future. Judy admitted: "Obviously when you're facing an illness as serious as what Tim is going through at the moment, it does focus your mind on what happens in the future."
Tim revealed on the show he believed the health blow could be down to exposure to the chemical Agent Orange during his service in Vietnam in the 1960s. Meanwhile, his son Harrison, who has been diagnosed with autism, found it more difficult to discuss his father's condition. He told the show in November: "I struggle to think about what he says with that, because it's a bit sad that Dad's not well and he could die any day, probably … It makes me feel really upset."
At the time Tim had only just begun a new round of chemotherapy in Melbourne and while his prognosis remained unknown, he said he had hope knowing that his sons Harrison and Dominic, will be successful and happy. "I'm just so happy that Harrison has reached a degree of tranquillity and positive approach to his life," he added on the program. "I will eventually leave this planet Earth, sooner or later, in the knowledge that Harrison is now far better placed than he was 10 years ago or 20 years ago."
Tim served as Nationals leader between 1990 and 1999 before retiring from politics in 2001 to support Harrison. The former pollie and his wife first found out Harrison was autistic when he was just five-years-old, and Tim recalled the doctor's "negative" tone while relaying the news at the time – apparently telling them it was unlikely he'd ever hold down a job or be able to live independently.
"It was shattering, it was disappointing, it was challenging. And initially I pushed back against it in a somewhat crazy way," Tim explained on Australian Story. It led to Tim realising he also had a mild form of autism himself, having had an unusual lifelong fascination with railways and transport. For Harrison, that fascination lies in politics – but unlike his father, he's a Labor supporter.