And Bill Shorten's Labor party didn't escape scot free either, as hopeful Luke Creasey withdrew from the election after social media posts of his were uncovered, including jokes about rape, lesbians and Catholics.
Read more: 'No respect': One Nation candidate's lewd social media posts exposed
However, despite the public outrage concerning the behaviour of these candidates, it has been revealed that an overwhelming majority of over-60s would not allow news of a scandal to alter their political inclinations.
More than 160 people within the Starts at 60 community took part in an online poll over the weekend, in which they were asked: "Do scandals such as these affect how you feel about a political party? Would you change who you planned to vote for as a result?"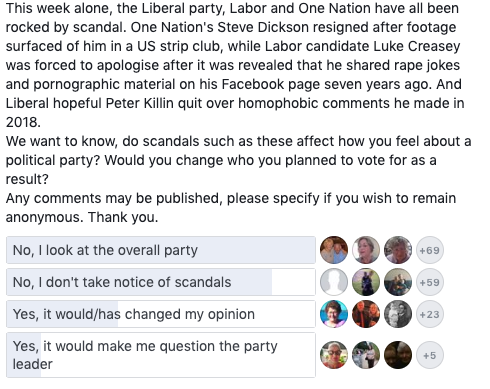 Surprisingly, 80 per cent of respondents said they would not change the way they vote due to inappropriate behaviour. Of those who answered "no", 54 per cent said they make their decisions about who to vote for based on the overall party and policies, rather than individuals, while 46 per cent said they take no notice of salacious headlines or reports.
Just one in five who took part in the poll said their opinion would be affected by news of a scandal, while 76 per cent of those said they would, or have previously, change their mind about a candidate.
While almost a quarter of those who answered "yes" said this type of news would alter how they viewed the party leader.
"Mainly because I hold people in public office who are making decisions that affect every man, woman and child in the nation, to a higher standard," one reader explained of their decision. "Lies and cheating in their personal life leaves me feeling they are likely to be vulnerable to other unacceptable practises such as taking funding from lobby groups in return for favours etc."
Another commented on the poll, saying: "We want a level of honesty and decency in our politicians surely. Finding out an isolated politician or candidate has been involved in a scandal wouldn't change my vote unless they were in my electorate but it certainly might if it was more than an isolated candidate as that would indicate the party has very poor selection procedures and leave doubt about the quality of the others representing the party."
A third wrote: "It is a pity that reporting of scandals has become important. We all know that politics is a dirty business and that in recent times the media seems to thrive on muck raking. Anyone with the good of Australia at heart should be able to see that there are issues far more important. When we go to vote we should do so with Australia in mind. Yes, it is a chance to express dissatisfaction or to show our support of a particular individual issue but we should look at the big picture. Australia needs stability in government."
While another argued: "You can't paint the entire party in the same slime that one person has bathed in. Just as surely as you can't blame an entire religion for the few extremists who maintain to represent that religion."
What are your thoughts on this story? Would news of a scandal affect the way you vote?