He continued by explaining they don't want to punish the population currently receiving support from the government and simply want to make things easier for them and ease the process of getting off of drugs. "It's not about punishment, it's making sure money is spent on them, on their kids if that's the case, but not drugs and illicit substances," Dutton added.
"So I think its a common sense approach, it respects community values, it's a measured approach I think the opposition should support." While the Labor Party did not support the idea last time is was brought up, Deputy Leader Richard Marles claimed it is something they will have a good look into this time around before making a decision.
"We're for anything which gets people back into employment," he told host Deb Knight on the Today show. "We're for anything which gets people off drugs. We'll have a good look at the legislation when it's given to us. But we want to know that this actually works and we're mindful of the advice of experts around this. We've got to be really careful that whatever measures we are putting in place don't end up demonising the most vulnerable."
While Labor is yet to make a final decision on the proposed plan, the Greens and the Australian Council of Social Services have both condemned it, with politician Rachel Siewert openly criticising the idea on social media. Taking to Twitter shortly after the government's announcement was made, the pollie called it a "bad policy" and said it will do nothing to support those in need.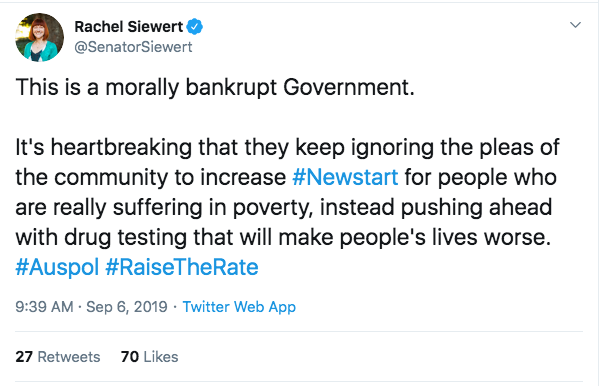 "This was a bad policy when the Govt tried to introduce it before, it is still bad policy," she wrote. "Overwhelming expert advice to the inquiries into this legislation rejected this approach." Siewert continued: "This is a morally bankrupt government. It's heartbreaking that they keep ignoring the pleas of the community to increase #Newstart for people who are really suffering in poverty, instead pushing ahead with drug testing that will make people's lives worse."
Meanwhile, many fellow Aussies have weighed in on the topic, also taking to social media to share their thoughts on the government's plan. The opinions were very mixed with several claiming it is a bad idea, and others congratulating the government for taking action.
"There's not enough jobs out there for everyone, most of them are casual and don't give enough hours to pay for our bills," one person wrote on Twitter. "This government has no idea about the battlers out there that have to rely on welfare."
While another questioned: "The biggest barrier to getting a job is there are no jobs out there! Also given you can't currently adequately fund the mental health sector of rehabilitation sector who is going to pay for the drug treatment? Is the govt going to pay for drug rehab?"
On the other hand, a flurry supported the government writing on Twitter: "A good move! I fully support! Don't use tax payers money to fund druggies." Their thoughts were echoed by a second who added: "Testing is mandatory in most workplaces these days, why not for welfare recipients?"